Home and Away heartbreak: Billie weds VJ after learning she hasn't long to live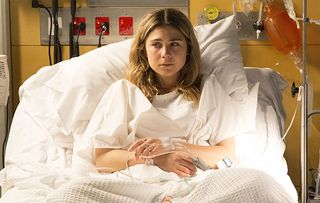 Billie is told her condition is terminal. VJ proposes and the couple get married before sharing her last moments together on the beach, where the new mum dies.
Having collapsed at her baby's blessing, new mum Billie (Tessa de Josselin) is in hospital in Home and Away. But as Tori (Penny McNamee) and Nate (Kyle Pryor) run tests, they soon discover Billie's condition is terminal. VJ (Matthew Little) and Ash (George Mason) are left utterly devastated by the news. While Ash flies into a bitter rage, VJ is forced to accept his hopes and dreams of a future with Billie and baby Luc aren't going to happen. VJ soon realises, however, there's one thing the couple can do: get married.
As their loved ones gather in hospital, Billie and VJ exchange vows. Later, Billie persuades reluctant VJ to take her to the beach so they can share one final sunrise together. There, she dies in VJ's arms.
Home and Away, Billie Ashford
Home and Away, Billie Ashford
Her brother Ash is horrified and refuses to accept the prognosis.
As Billie apologises for all she's put her brother through, Ash tells her to stop talking as if this is the end. But Billie points out, it is the end.
Zac and Leah are told the terrible news about Billie.
VJ decides he must marry Billie immediately and is thrilled when she accepts his proposal.
In hospital, Billie and VJ's friends and family gather.
After the couple exchange vows, they're pronounced man and wife!
VJ is thrilled to have married Billie…
… VJ kisses his bride!
The newlywed couple don't have long together. But before they share a tender farewell alone together on the beach, Billie has a few goodbyes to make…
Ash is devastated to know he's losing his sister.
New mother-in-law Leah tenderly kisses Billie. It will be their last embrace. RIP Billie… Watch Home and Away on C5 from Monday 3 April.
Get the What to Watch Newsletter
The latest updates, reviews and unmissable series to watch and more!