Held hostage! Jasmine, Leah and Ryder suffer a terrifying encounter with stalker David…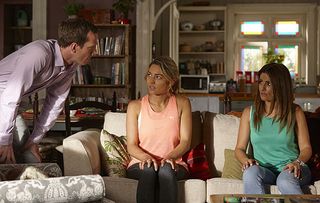 Jasmine is taken hostage by her stalker David who also traps Leah and Ryder
Jasmine's nightmare with David comes to a terrifying end as he tries to force her to leave the Bay with him. She uses clever tactics to alert Leah to her plight - and soon the mum, and Roo's nephew Ryder are involved too! How will the saga end?
Elsewhere John and Marilyn become embroiled in Alf's rift with Roo. Can their friends get the father and daughter back on track? Can Roo harness her stress and try to find her mum who she's recently learned, from Alf, is still alive?
Dean's past with Willow comes to the fore and causes problems for jealous Justin.
Held hostage! Jasmine, Leah and Ryder suffer a terrifying encounter with stalker David…
Held hostage! Jasmine, Leah and Ryder suffer a terrifying encounter with stalker David…
David, who's been stalking Jasmine, is waiting for her in her van.
She gets the shock of her life when she sees he's broken in.
David quickly makes it clear she hasn't got much choice in what happens next.
David implores Jasmine not to give up on their 'relationship'.
When David insists they leave the Bay, Jasmine says she must drop the van keys in with Leah…
As the nightmare unfolds, Leah and Ryder are dragged into the hostage situation! Can they escape David?
Roo's invited to the Palmers' for dinner not realising her dad Alf is going to be there too.
They fallen out over a huge lie Alf told Roo.
Roo breaks down on Marilyn, confiding her hurt over her mum's rejection.
Willow takes Justin back to her van. But the couple get a shock…
… Dean is asleep in Willow's bed!
The couple get through the situation.
But Justin can't help but feel paranoid about Willow and Dean's past… Watch Home and Away on C5 from Monday 9th April.
Get the latest updates, reviews and unmissable series to watch and more!
Thank you for signing up to Whattowatch. You will receive a verification email shortly.
There was a problem. Please refresh the page and try again.