Justin's held at gunpoint as the Morgans' secret is exposed!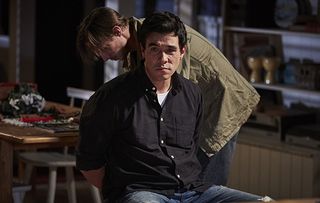 When the Morgans' witness protection secret is exposed in Home and Away, a dirty cop turns on them and threatens to shoot Justin!
When Decker is found shot and is rushed into hospital for emergency surgery, the Morgans' lives fall apart in Home and Away. As they investigate the contents of a USB stick which was in Decker's pocket, they're determined to crack the password to its contents.
When Kat then tells Justin she knows the family are in witness protection, the copper urges him to tell her everything so she can protect them. Although Justin complies, he's worried Kat will now be a target for the syndicate who killed his parents years ago, forcing him and his orphaned siblings to go into witness protection. As guards are stationed outside the Morgans' house, a high ranking officer, Ranae, claims to have been sent by the Commissioner to help out…
With the Morgans panicking about what will happen next, they manage to crack the password of the USB and work out suspicious 'cop' Ranae isn't who she says she is...
As Justin tries to protect his family, he's taken hostage by dodgy cop Ranae!
As Justin tries to protect his family, he's taken hostage by dodgy cop Ranae!
Earlier, Justin tries to reassure Raffy, who's desperately worried that her shot father, Decker, isn't going to survive.
Raffy's devastated when her worst fears come true - the doctors haven't been able to save his life.
Having lost her parents, Tori knows how awful Raffy is feeling, and tries to comfort her half-sister following Decker's shock death.
The Morgan siblings are desperate to crack the code to unlock the contents of a USB stick, which fell out of Decker's pocket before he died.
Tori, Justin and Mason wrack their brains to solve the code, knowing the contents of the USB will explain a lot.
As the Morgans' drama unfolds, Justin and Kat work out Ranae is a dodgy cop and is out to get them…
Kat and Justin are trapped inside the Morgan house…
As the Morgans' house is hit by gunfire, Justin and Kat try to hide, terrified for their lives.
Justin Morgan has dropped the USB stick and needs to retrieve it if he has any hope of saving his family…
Can Justin get to the USB stick before Ranae gets to it?
Justin is ambushed by Ranae who ties him up and interrogates him
Ranae reveals she was behind the hit on his parents, which saw them both killed.
As Ranae demands to know how much Justin has on the syndicate, he double-bluffs her and urges her to shoot him…
Ranae is about to shoot when Kat arrives with back-up! Can the copper and her team save his life? Watch Home and Away on Channel 5 from Monday, February 20
Get the latest updates, reviews and unmissable series to watch and more!
Thank you for signing up to Whattowatch. You will receive a verification email shortly.
There was a problem. Please refresh the page and try again.