Ash crumbles as Kat and their unborn child are laid to rest in Summer Bay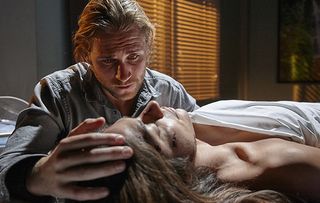 Ash attends the funeral of Kat and their unborn child, and is determined to get revenge on Robbo who he blames for their deaths
Ash is in hell in the wake of Kat's death. She was carrying his unborn child, who didn't survive the car crash either.
With Kat having died while attempting to go on the run with Robbo, Ash blames him and wants revenge. But Robbo's in hiding since the fatal car accident which killed his copper girlfriend, who had just busted him out of jail.
As Ash's loved ones rally to try to help him, the locals gather for the funeral of Kat and her unborn child.
Ash says goodbye to Kat who didn't survive the injuries from the road smash…
Ash says goodbye to Kat who didn't survive the injuries from the road smash…
… the crash has also killed Kat and Ash's unborn child.
As the locals take in the news, John and Marilyn lay flowers at Kat's apartment.
Can anyone pull Ash out of his pit of despair?
Tori talks to Justin, hoping her brother can calm down Ash.
Despite his chat with Tori, Justin reaches out to Ash…
… the guys head off to try to find Robbo.
Later, a suited and booted Ash has Tori on his arm…
It's Kat's funeral…
Ash watches on as the coffins arrive.
Kat's police force colleagues carry her body into church.
Ash is the pallbearer for his tiny unborn child.
Justin supports Ash as he walks away from the coffin.
Ash listens to the funeral service.
Irene Roberts bids a tearful goodbye to Kat…
… as do John and Marilyn…
… and Roo and Alf.
Ash walks out of the church a broken man.
Unable to leave things there, Ash reconnects with his past…
… and enlists the help of the River Boys to track down Robbo. Watch Home and Away on C5 from Monday 12th March.
Get the latest updates, reviews and unmissable series to watch and more!
Thank you for signing up to Whattowatch. You will receive a verification email shortly.
There was a problem. Please refresh the page and try again.