Baby bombshell! What will Robbo do when he discovers Kat is pregnant?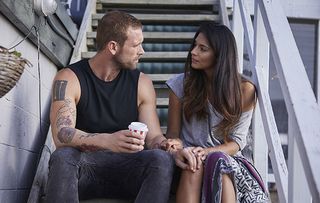 Robbo is stunned when he discovers Kat's pregnant and floors her with an unexpected proposal!
Kat is struggling to cope with the revelation she's pregnant and decides to keep the news to herself for now.
However her secret is soon out when Roo sees her vomiting and later notices a pregnancy testing kit lying around. Oops!
When Roo gently asks her what she's intending to do and how she'll break the news to Robbo, a torn Kat is conflicted however, the truth later comes pouring out when she and Robbo get into an argument and an angry Kat blurts out that she's carrying his child!
Robbo is stunned but it's later Kat's turn to be shocked when her boyfriend gets down on bended knee and asks her to marry him! What will Kat say and is Robbo going to be delighted or very disappointed?
Little does he realises his girlfriend is battling terrible morning sickness
But one person who's about to find out is Roo who spots her mate throwing up. Eurgh...
Later on Robbo gets Kat alone and confronts her over her recent strange behaviour
When Kat refuses to give any answers, Robbo gets increasingly frustrated but when Kat's convinced he's on the verge of splitting up with her, she blurts out the truth!
Robbo is shell-shocked to discover Kat's carrying his baby
Meanwhile Kat herself is struggling with the truth and not sure what she should do
As the couple discuss the situation, emotions rise and it's clear they're conflicted on what to do for the best
However Kat is stunned when Robbo suddenly drops to one knee and asks her to marry him! What will she say? And is this what Robbo really wants? Watch Home and Away on Channel 5 from Monday 8 Jan
Get the latest updates, reviews and unmissable series to watch and more!
Thank you for signing up to Whattowatch. You will receive a verification email shortly.
There was a problem. Please refresh the page and try again.