Kyle is caught up in Isla's robbery in Home and Away!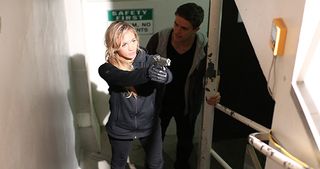 Isla's actions spiral out of control. Will Kyle get caught in the crossfire?
Isla's armed and dangerous as she takes hostages at the Reefton Lakes Golf Club
Earlier, when she learns she's going to lose custody of her kids, Isla decides she's needs cash and she heads to Reefton Lakes
...where she pulls out a gun and bundles the terrified bar staff of the golf club into a store cupboard
After spotting a message on her phone reading 'job tonight' from one of Isla's dodgy contacts, Kyle races to the scene
The police arrive while Isla's still inside battling to open a safe door!
Kyle catches up with Isla and pleads with her to see sense and to let her hostages go...
But she isn't thinking straight and won't listen to a word he's saying
Meanwhile, the police get into position around the clubhouse...
Kyle pleads with Isla to hand herself in before things get even messier
But she's adamant she'll do whatever it takes, even if that means fighting her way out with a gun!
The cops storm the building and Kyle desperately helps Isla escape through a vent in the ceiling. But it's too late for him – the police shout 'FREEZE'
WK20-Home-Isla-Schultz-Kyle-Braxton13
Kyle drops to his knees and is cuffed. How will Kat react when she sees he's been arrested? Watch Home and Away, on Channel 5, from Monday, May 16
Get the What to Watch Newsletter
The latest updates, reviews and unmissable series to watch and more!