Matt's a murder suspect in Home and Away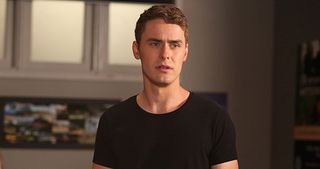 Matt's terrified when he becomes chief suspect for Charlotte's murder
Matt's terrified when he's taken in for questioning about Charlotte King's murder....
Earlier in the week, Dylan is inundated with work and stays late at the office...
Kat assures him she'll help him plough through the overwhelming paperwork
However, with just Kat and Dylan in the office...
...they can't resist temptation, and when Kat makes a move to kiss Dylan...
...he's quick to respond. The paperwork is pushed aside as the pair get passionate and start tearing each other's clothes off
...but afterwards, Kat makes Dylan promise not to tell a soul. Meanwhile, Dylan sees the news headline about Charlotte's sex tape scandal
Elsewhere, a distressed Matt confides in Maddy about the sex tape. He tells her how Charlotte was trying to sell it to a website and now a journalist is sniffing around
...but the journalist is not the only one interested. Now they know about the tape, Dylan and Kat decide Matt needs to be brought back for further questioning
Kat arrives to tell Matt they need him to come to the police station
Maddy assures him it's all going to be OK, but Matt's not so sure
Back at the station, Matt remains adamant he's done nothing wrong, but his actions look highly suspicious from where Dylan and Kat are sitting
Matt's grilled about his relationship with Charlotte. Dylan suggests that Matt knew about the sex tape and confronted Charlotte in a rage
...and in a fit of anger, shot her dead!
As Matt denies everything, Dylan bring up his less than perfect past, including his cash machine robbery. Kat feels torn about Dylan's hardline questioning
WK19-Home-Kat-Chapman-Dylan-Carter-Matt-Page16
Meanwhile Matt's terrified. He's suddenly chief suspect. How on Earth can he prove his innocence? Watch Home and Away on Channel 5 from Monday, May 9
Get the What to Watch Newsletter
The latest updates, reviews and unmissable series to watch and more!