The Morgans are in crisis as Brody's drug addiction resurfaces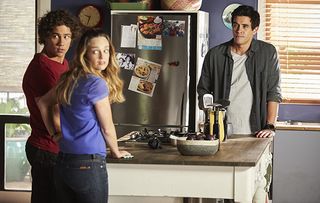 As Brody's addiction to drugs is exposed, his siblings Tori, Justin and Mason are at odds over what to do.
Brody's drug addiction surfaces and is about to shatter the close-knit Morgan family in Home and Away.
Justin is furious with Brody for being involved with narcotics after all that they went through with their parents. But when Justin throws Brody out of the house, Tori is devastated that her brother could be so heartless. The Morgans now have no idea where Brody is.
He ends up being taken in by Scarlett, who he abducted after smashing up the pawn shop. Having found Brody sleeping rough on the beach, Scarlett takes him back to her place before informing his worried siblings where he is.
At Scarlett's place, can Tori and Mason convince Justin that they need to bring Brody home?
The Morgan siblings reel as their brother Brody's drug addiction comes to light.
The Morgan siblings reel as their brother Brody's drug addiction comes to light.
Justin can't believe Brody has succumbed to drugs after all they went through with their parents.
Tori has a go at Justin for kicking Brody out of the house.
Believing their brother needs them now more than ever before, Tori's really upset by Justin's decision.
Eventually, the siblings stop rowing about Brody and embrace each other, both clearly upset.
Tori is taking the news about Brody very badly. Mason tries to cheer up his sister.
But Tori just digs herself deeper into an emotional hole.
Tori pores over old family photos…
…and breaks down in tears as she finds one of her and Brody together as kids.
The Masons are interrupted by a knock at the door.
They're taken aback when the woman, Scarlett Snow, who they've not met before, reveals she has Brody at her place asleep on her sofa! Will the Morgans bring their troubled brother home? Watch Home and Away from Monday, June 26 on Channel 5
Get the latest updates, reviews and unmissable series to watch and more!
Thank you for signing up to Whattowatch. You will receive a verification email shortly.
There was a problem. Please refresh the page and try again.