Is it over for Home and Away's Kat Chapman and Ash Ashford?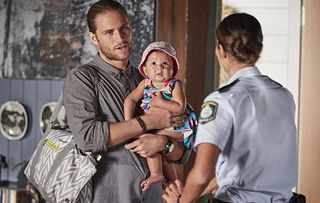 As Ash Ashford ploughs ahead with his plans to adopt baby Luc, his relationship with Kat Chapman reaches crisis point.
Things come to a head between Ash Ashford and Kat Chapman as the subject of Luc's adoption once again takes centre stage in Home and Away
Ash is committed to going ahead and adopting his late sister Billie's little boy while Kat continues to struggle with the idea. She's worried about the impact the adoption will have on their relationship and also her career and, besides, she's just not sure she's cut out for motherhood.
As the couple attempt to discuss the situation it becomes increasingly clear something has to give and it's with a very heavy heart that Kat comes to a decision. She loves Ash, but she just can't see a way forward. Is this the end of the road for the the couple?
Will Ash be left holding the baby as his relationship with Kat hits the buffers?
Will Ash be left holding the baby as his relationship with Kat hits the buffers?
Kat and Ash discuss adopting baby Luc and Kat tries to reassure Ash that she's not avoiding the subject, she's just not sure she's ready for such a huge step.
Kat kisses Ash goodbye and sets off for work with a heavy-heart, preoccupied with all the adoption plans.
Later on Ash asks Kat why she is avoiding everything to do with the adoption.
But Kat has got other things on her mind when she finds out she must testify against Dylan Carter in his upcoming corruption trial.
Ash brings the subject back to Luc and tells Kat he wants the three of them to be a family.
But Kat's response isn't what he was hoping for when she admits she just isn't ready to become a full-time mother.
As Ash hands Kat her police cap, the realisation that her relationship with Ash is coming to an end hits her.
Tori arrives on the scene and finds Ash in a downbeat mood.
Ash opens up to Tori and tells her that he and Kat can't agree on the adoption and as a result, their relationship is doomed.
Tori provides a sympathetic ear and Ash notes just how good she is with baby Luc. She's a natural mum.
As Tori and Ash talk about his relationship, what will Ash decide? Will he still go ahead with the adoption and if so, is this the end of the line for him and Kat? Watch Home and Away on Channel 5 from Monday 7 August.
Get the What to Watch Newsletter
The latest updates, reviews and unmissable series to watch and more!