Hero… Robbo takes down Zannis – and saves Kat!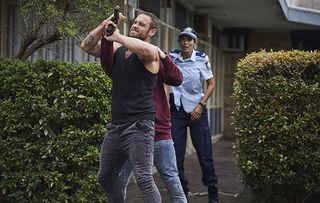 Robbo saves the day when he rescues Kat from Zannis as the copper sets out to free Ziggy and Brody who've been kidnapped by the drug dealer
Robbo is going to save the day! Zannis has struck again. He's got Ziggy tied up in a motel room and he's about to trap Brody, too, having forced Ziggy to lure him over there.
When Brody fails to make his parole sign in, worry spreads throughout the Bay. Kat goes in search. As the policewoman arrives at the motel, she's soon embroiled in Zannis' evil web and gets knocked out! With that it's down to Robbo, who's travelled out with her, to save the day. As Kat comes to, she clocks Robbo taking down Zannis! Impressed, she wonders if his super-speedy skills are are key to his mystery past… Was amnesiac Robbo a copper in his former life?
Robbo saves Kat as Zannis pulls a gun!
At a dodgy motel, Ziggy and Brody have been taken hostage by Zannis and his cronies.
The drug-dealer has a gun - and he's planning to use it.
Policewoman Kat arrives at the motel, unaware of what is unfolding inside…
As she enters the room, Zannis whacks her over the head!
Kat slumps to the floor, out cold from the blow.
Thugs move hostages Brody and Ziggy out to a getaway car…
Watching on, from Kat's car, Robbo leaps out and strikes!
Brody and Ziggy are set free as Robbo takes out Zannis' sidekicks.
Ziggy and Brody watch on as Robbo makes his next move.
Zannis exits the motel room, bearing a gun!
As Kat comes to, she finds Robbo taking down Zannis…
Kat's impressed by Robbo's tactics and wonders if the amnesiac was a policeman in his former life… Watch Home and Away on C5 from Monday 25 September.
Get the latest updates, reviews and unmissable series to watch and more!
Thank you for signing up to Whattowatch. You will receive a verification email shortly.
There was a problem. Please refresh the page and try again.