VJ has a crush on Billie in Home and Away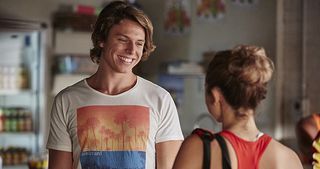 VJ is mooning over Billie, but is the feeling mutual?
VJ has clearly got one whopping big crush on Billie, but does she feel the same way?
Earlier, VJ is totally smitten with Billie and flirts with her at the surf club. But is he trying just a bit too hard? Billie's not exactly flirting back!
Meanwhile, when Skye pesters him to teach her to surf, he reluctantly agrees
The only trouble is, when it comes to teaching and surfing, he hasn't got a clue!
When Billie watches from afar and sees just how useless VJ is, she offers to step in and give Skye lessons herself
After a couple of hours on the waves with Billie as tutor, Skye has mastered the waves! She returns the board to the surf club and tells VJ just how fab Billie was...
VJ agrees; Billie is one cool chick! But unfortunately, Billie doesn't exactly think VJ is one cool dude
VJ can't stop grinning at Billie. Meanwhile, Skye comes up with a plan: why don't she and VJ pretend they're a couple so Billie can see he has boyfriend potential!
WK21-Home-VJ-Patterson-Skye-Peters-Billie-Ashford09
Hmm... we're not sure it's the best of plans! Will the ruse work? Watch Home and Away on Channel 5 from Monday, May 23
Get the What to Watch Newsletter
The latest updates, reviews and unmissable series to watch and more!