How to watch the Bundesliga in 2021
The Bundesliga is one of the best leagues in the world. Here's how to watch it.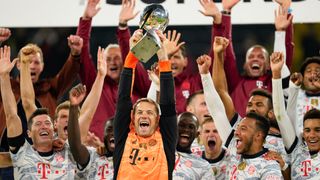 (Image credit: Alex Gottschalk/DeFodi Images via Getty )
Bundesliga, roughly translated, means "national league." It's the top-level in which you can play in Germany. It's like the Premier League in England. Or Serie A in Italy. Or La Liga in Spain.
The 2021/22 Bundesliga season is firmly underway now, and Bayern Munich and VfL Wolfsburg are currently tied up at the top of the table on 13 points, with Bayern leading on GD thanks in no small part to a huge 7-0 victory over VfL Bochum on September 18.
Elsewhere, Augsburg picked up their first win of the season against Borussia Mönchengladbach, Dortmund beat Union Berlin 4-2 and there were goalless games for Arminia v Hoffenheim and Köln v Leipzig.
If you're trying to keep up with top-flight German football this year, here's how to watch Bundesliga soccer in 2021.
How to watch the Bundesliga in the United States
ESPN+ became the home of the Bundesliga in the US last year, and the network has committed to comprehensive coverage of the game for the second year running, with over 300 live Bundesliga matches set to air exclusively on ESPN+ this season.
ESPN+ has become the go-to service for anyone who loves live sports. There's just not enough room on traditional television for the sheer amount of games being played around the world on any given day or weekend, and that's where streaming comes in.
Without the shackles of "channels," ESPN+ is able to bring you every Bundesliga game on the schedule. Five games playing at the same time? No problem. You can pick and choose what you want to watch, and flip back and forth without any effort whatsoever.
In addition to all the live events, ESPN+ also has a smattering of original content and bits and pieces from the terrestrial side of the network, too.
And there's new original content as well, from some of the biggest names in the business, from auto racing to college football, UFC, basketball, baseball and more.
Access starts from just $6.99 a month, but you can save over 15% with an ESPN+ Annual Plan for $69.99 a year. This price just increased from $5.99 on August 13, so if you already had an ESPN+ subscription, you'll be charged the new rate on your next bill.
If you're really serious about your sports and entertainment, check out the epic ESPN+/Hulu/Disney+ bundle. For just $13.99 a month you get all three streaming services — essentially for the price of just two of them.
That means you get all of ESPN+. You get the ad-supported Hulu plan with its vast library of shows and movies and exclusives. And you get Disney+, home to all things Disney, Star Wars, Pixar, Marvel and more!View Deal
How to watch the Bundesliga in the UK
You might be expecting to head over to BT Sport to watch Bundesliga football in the UK, but you'd be wrong. BT's contract with the German league expired at the end of the previous season.
If you're a German football fan in the UK and Ireland, you'll now find Bundesliga football on Sky Sports, as Sky has signed an exclusive four-year rights deal for coverage from the top league in Germany.
This agreement covers the domestic top-flight competition, as well as the German Super Cup which Bayern Munich won on August 17.
Sky Sports kicked off its coverage with the first game of the season and will continue showing the premium fixture every weekend live on Saturday at 5:30 pm on Sky Sports Football, with additional games being shown on other linear and digital Sky Sports channels including Sky Sports YouTube.
Which teams are in the Bundesliga this season?
Like other European football leagues, the teams in the Bundesliga change every year. 18 teams compete in the league each year, but the bottom two teams are automatically "relegated" and drop to the league below, the 2. Bundesliga, replaced by the top-two finishers from 2. Bundesliga.
The third-lowest team in the Bundesliga also plays the third-highest team from the 2. Bundesliga and the winner takes up the final place in the following Bundesliga season.
The teams competing this year are:
Arminia Bielefeld
FC Augsburg
Bayer Leverkusen
Bayern Munich
VfL Bochum
Borussia Dortmund
Borussia Mönchengladbach
Eintracht Frankfurt
SC Freiburg
SpVgg Greuther Fürth
Hertha BSC
1899 Hoffenheim
FC Köln
RB Leipzig
Mainz 05
VfB Stuttgart
Union Berlin
VfL Wolfsburg
Upcoming Bundesliga fixtures
Below is a list of upcoming fixtures from the current Bundesliga season. You'll find local kick-off times and info on how to watch each match.
Please note: Not all games are televised in the UK. Missing scheduling information will be added as soon as possible once it is available.
Friday, September 24
Greuther Fürth vs. Bayern Munich - 2:30 pm EST on ESPN+ / 7:30 pm on Sky Sports Mix
Saturday, September 25
RB Leipzig vs Hertha Berlin - 9:30 am EST on ESPN+ / 2:30 pm BST
Eintracht Frankfurt vs. FC Köln - 9:30 am EST on ESPN+ / 2:30 pm BST
Bayer Leverkusen vs. Mainz - 9:30 am EST on ESPN+ / 2:30 pm BST
FC Union Berlin vs. Arminia Bielefeld - 9:30 am EST on ESPN+ / 2:30 pm BST
Hoffenheim vs. VfL Wolfsburg - 9:30 am EST on ESPN+ / 2:30 pm BST
Borussia Mönchengladbach vs. Borussia Dortmund - 12:30 pm EST on ESPN+ / 5:30 pm BST on Sky Sports Football
Sunday, September 26
VfL Bochum vs. VfB Stuttgart - 9:30 am EST on ESPN+ / 2:30 pm BST on the Sky Sports App
SC Freiburg vs. FC Augsburg - 11:30 am EST on ESPN+ / 4:30 pm BST on the Sky Sports App
Friday, October 1
FC Köln vs. Greuther Fürth - 2:30 pm EST on ESPN+ /
Saturday, October 2
Hertha Berlin vs. SC Freiburg - 9:30 am EST on ESPN+ /
VfB Stuttgart vs. Hoffenheim - 9:30 am EST on ESPN+ /
VfL Wolfsburg vs Borussia Mönchengladbach - 9:30 am EST on ESPN+ /
Borussia Dortmund vs. FC Augsburg - 9:30 am EST on ESPN+ /
RB Leipzig vs. VfL Bochum - 12:30 pm EST on ESPN+ /
Sunday, October 3
Mainz vs. FC Union Berlin - 9:30 am EST on ESPN+ /
Bayern Munich vs. Eintracht Frankfurt - 11:30 am EST on ESPN+ /
Arminia Bielefeld vs. Bayer Leverkusen - 1:30 pm EST on ESPN+ /
Phil spent his 20s in the newsroom of the Pensacola (Fla.) News Journal, his 30s on the road for AndroidCentral.com and Mobile Nations, is the Dad part of Modern Dad, and is editor of WhatToWatch.com.
Get the latest updates, reviews and unmissable series to watch and more!
Thank you for signing up to Whattowatch. You will receive a verification email shortly.
There was a problem. Please refresh the page and try again.