Amy teaches Joey Essex how to tell the time in I'm a Celebrity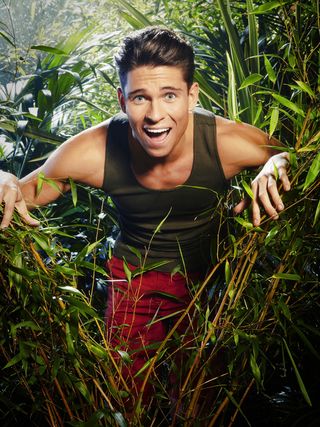 Reality TV star Joey Essex and model Amy Willerton are already bonding in the jungle - as she teaches him to tell the time.
Amy made a makeshift clock on the ground and set about explaining what the big and little hands meant as the contestants settled into their campsite home in the latest series of I'm A Celebrity... Get Me Out Of Here!
The Only Way Is Essex star says: "It's so much easier to look at your phone though, isn't it?"
Miss Universe GB Amy tells him: "You ought to remember, if you want to go and buy a nice watch, like a nice designer watch, people will come up to you and say, 'Joey, what's the time?'"
But he says: "I've got a watch, but watches are more like fashion, in't they?"
He adds: "My watch ain't got numbers on it."
The whiteness of Joey's teeth is commented on by his new friends as they assemble in the jungle for the ITV1 show.
Snooker player Steve Davis says to him: "The reflection of your teeth is blinding me."
When the contestants take part in their first Bush Tucker Trial, enduring the attentions of jungle critters, Joey is told by Emmerdale actress Lucy Pargeter: "They'll be scared by the whiteness of your teeth."
Her comment was related to lizards, as well as vcockroaches, snakes, rats and scorpions, with the celebrities strapped to a massive Turntable of Terror.
Talk show host Matthew Wright and The Fresh Prince Of Bel-Air star Alfonso Ribeiro were both driven to tears by snakes and scorpions respectively.
The stars were divided into two teams, depending how they did in the trial. The yellow team had a larger and relatively more luxurious camp, Croc Creek. Being greeted by a roaring campfire, Westlife's Kian Egan said: "I'm happy to be here for as long a time as possible."
Royal designer David Emanuel said: "It was actually like a real Disneyworld. It's magical actually."
But it was a very different reaction for the red team who found themselves in Snake Rock. "It's not that nice. We'll have to sleep on the floor," said swimmer Rebecca Adlington.
The camp mates tried to light the fire without any luck. It was the Olympic medallist who saved the day when she offered up one of her tampons to light.
The elements took a hand, sending one of the biggest storms I'm a Celebrity... has seen. As rain lashed the camp, the celebrities ran for cover to avoid torrential rain and hailstones the size of marbles. The normally dry creek turned into a torrent of brown water and as water levels rose, producers considered evacuating the camp.
Production staff had to stay in their buildings and no one was allowed on the bridges connecting the camp to the outside world for fear of lightning strikes. Internet connections went down until back-up generators kicked in and nine cameras stopped operating.
Get the latest updates, reviews and unmissable series to watch and more!
Thank you for signing up to Whattowatch. You will receive a verification email shortly.
There was a problem. Please refresh the page and try again.