Ferne McCann's spider-eating bushtucker trial won't be investigated, despite 1500 complaints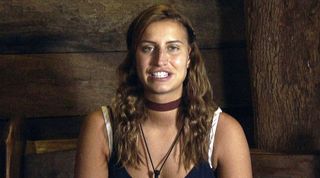 I'm A Celebrity… Get Me Out Of Here! will not be investigated over a controversial episode that saw contestant Ferne McCann eat a live spider in a Bushtucker Trial, Ofcom said.
A total of 1,448 complaints were received by the TV watchdog and ITV about the Bushtucker Bonanza task broadcast on December 6, which saw The Only Way Is Essex star Ferne swirl the water spider around a glass before eating it.
"@imacelebrity: .@fernemccann managed it! Takes some doing that #spider https://t.co/jDwSfhMio8"
— Phil (@philstoke) December 6, 2015
A spokesman for Ofcom said: "We received a number of complaints about a contestant on this programme eating a live spider as part of a challenge, but won't be taking the matter forward for investigation.
"In our view, this task was in keeping with the well-established format of this reality series and was unlikely to have exceeded audience expectations. We also took into account that ITV had taken steps to limit any offence resulting from the inclusion of this task."
Ferne swirled the spider before crunching it down (ITV/screenshot)
The consumption of live invertebrates such as insects and grubs is an established part of the jungle-based reality programme.
Ofcom said it was satisfied with ITV's explanation of the steps taken to mitigate offence when showing the task, including footage selected and avoiding any vertebrate creatures.
The huge live water spider (ITV/screenshot)
An ITV spokesman said at the time: "I'm A Celebrity complies with all regional and national laws concerning the use of insects in the eating trials, which have become a well-established part of the show over the past 15 years."
However, many viewers disagreed and thought it was a cruel stunt.
Glad people are complaining about the spider situation on last night's I'm a Celeb. Cruel for both parties involved (spider and Ferne)!
— Hannah Hopkins (@snikpoHhannaH) December 7, 2015
Just tuned into @imacelebrity to see Ferne eating a live spider. Pretty disgusted at this #cruel act #notok #notentertainment #notright
— Louise Hall (@Lhall1987) December 6, 2015
Couldn't watch ferne eat that spider last night. That was cruel even for #ImACelebrity ! Poor spider #shameful #ofcom @ITV @Ofcom
— katy o'brien (@Kay_94_) December 7, 2015
Ferne came third in the competition, which was won by Geordie Shore star Vicky Pattison.
Get the latest updates, reviews and unmissable series to watch and more!
Thank you for signing up to Whattowatch. You will receive a verification email shortly.
There was a problem. Please refresh the page and try again.