62nd London Film Festival | The Ballad of Buster Scruggs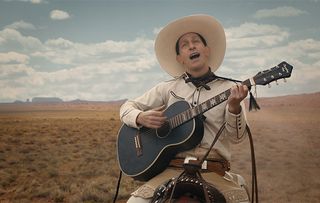 (Image credit: Netflix)
The Coen Brothers are in gleefully sardonic form with The Ballad of Buster Scruggs, a decidedly oddball anthology movie comprising six tales of the Old West. The eponymous opening story, which casts buck-toothed Tim Blake Nelson as a sharp-shooting singing cowboy, is the film's goofiest episode, closely followed by 'Near Algones', a droll story featuring James Franco as a hapless would-be bank robber. Liam Neeson appears in 'Meal Ticket', a grimly ironic fable about a pair of travelling showmen, but you are fair more likely to root for Tom Waits' veteran gold prospector, dogged hero of the next yarn, 'All Gold Canyon', or for Zoe Kazan's naïve would-be frontierswoman, a jittery member of a wagon train rolling slowly westwards in 'The Gal Who Got Rattled'. The final episode, 'The Mortal Remains', is a spooky shaggy-dog tale about a mismatched bunch of stagecoach travellers (including Brendan Gleeson and Tyne Daly), but it's probably the weakest of the lot. Even so, the whole shebang is expertly put together and viewers are guaranteed plenty of darkly comic fun and one or two wistful moments, too.
The Ballad of Buster Scruggs screens at Cineworld Leicester Square at 6pm and at the Embankment Garden Cinema at 6pm tonight, and at the Embankment Garden Cinema on Friday 12th October at 2pm and at the BFI Southbank on Sunday 21st October at 8.40pm, and is available on Netflix from Friday 16th November.
Get the latest updates, reviews and unmissable series to watch and more!
Thank you for signing up to Whattowatch. You will receive a verification email shortly.
There was a problem. Please refresh the page and try again.