Roger Corman's Death Race 2050 | Blu-ray release – This futuristic action comedy is laugh riot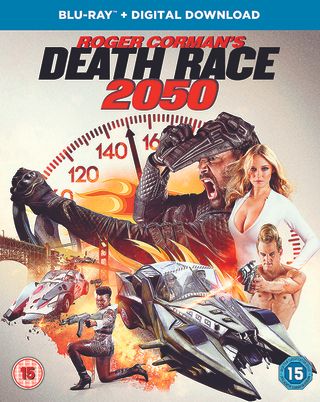 A delirious blend of high-octane action, razor-sharp political satire and full-throttle mayhem, Roger Corman's Death Race 2050 arrives on Blu-ray and DVD on 20 March from Universal Pictures Home Entertainment.
Legendary filmmaking icon, Roger Corman, is back with his most outrageous film yet in this sensational, action-packed and darkly humorous reboot of the original Death Race 2000!
It's the year 2050 and America is controlled by an all-powerful corporate government ruled by The Chairman (Malcolm McDowell). The masses have been brainwashed with violent virtual-reality entertainment.
The event of the year is the Death Race, in which a motley crew of violent drivers compete in a cross-country road race, scoring points for shamelessly running people over and driving each other off the road. The reigning champion and fan favourite, Frankenstein (Manu Bennett), who's half-man half-machine, wants to take the crown, but his rebel spy co-pilot threatens his legacy.
READ MORE HERE… (opens in new tab)
THE BLU-RAY RELEASE EXTRAS • The Making of 2050 • Deleted Scenes • Cars! Cars! Cars!: Go on the set with the drivers of Death Race 2050 • Cast Car Tours • The Look of 2050 –An insider look at how the film's visual style
https://www.youtube.com/watch?v=ky0IL4XL204
Thank you for signing up to Whattowatch. You will receive a verification email shortly.
There was a problem. Please refresh the page and try again.