Desierto | Gael Garcia Bernal's border jumper is caught in the crosshairs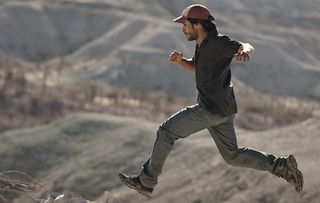 (Image credit: © Altitude Films)
Striving to cross the desert border from Mexico to the United States, a group of illegal Latino immigrants find themselves at the mercy of a rifle-toting racist and his equally relentless dog in Desierto.
Jonás Cuarón co-wrote the Oscar-winning Gravity with his father Alfonso Cuarón and for his second film as a director in his own right he has come up with a genuinely lean, stripped-to-basics thriller. He keeps dialogue and character development to a minimum, which won't please everyone. What he does do, however, is rack up the suspense notch by notch as the conflict amid the rocky, sun-scorched terrain resolves into a battle of wills between Gael García Bernal's resilient hero and Jeffrey Dean Morgan's remorseless vigilante
Political edge
You don't have to strain to detect a political edge to the story. It's probably no coincidence that the villain's dog, a Belgian Malinois, is the breed the US Secret Service uses to guard the grounds of the White House. Even more pointedly, the trigger-happy villain's name is Sam. Trump won't like it.
Certificate 15. Runtime 88 mins. Director Jonás Cuarón
Desierto debuts on Sky Cinema Premiere on Sunday 28 May. Available on DVD from Altitude Film Distribution.
https://www.youtube.com/watch?v=OIdPSVKZsD4
Get the latest updates, reviews and unmissable series to watch and more!
Thank you for signing up to Whattowatch. You will receive a verification email shortly.
There was a problem. Please refresh the page and try again.