Jigsaw (2017) | Blu-ray/DVD release – The horror franchise gets a twisted reboot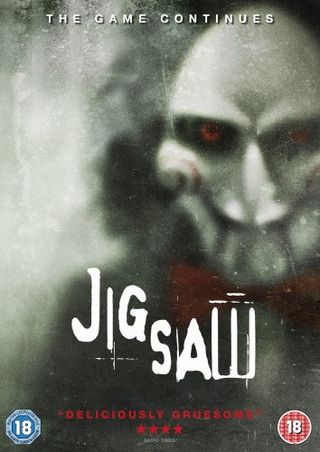 From Lionsgate UK comes Jigsaw, the eighth instalment in the top-grossing franchise, on digital (19 February) and Blu-ray, DVD, Steelbook and a new full series Saw box-set all (26 February).
10 years after the death of the infamous Jigsaw killer aka John Kramer (Tobin Bell), Detectives Halloran (Callum Keith Rennie, Memento) and Hunt (Clé Bennett, Heroes Reborn) investigate a series of murders bearing the unique modus operandi of the Jigsaw killer. Has Kramer really returned from the grave to remind the world to be grateful for the gift of life? Or is this a trap set by a killer with designs of their own?
Director Michael Spierig and Peter Spierig (Predestination) go back to basics with their reboot, which ditches the torture porn for a pure chill-ride that aims to recapture the same suspenseful thrills as Se7en – only bloodier. Matt Passmore (The Glades), Laura Vandervoort (Supergirl), Paul Braunstein (The Thing), Brittany Allen (All My Children) and Mandela Van Peebles (Baadassss!) are Jigsaw's targets this time round, while Tobin Bell is back in his iconic role – and it's not just a 'blink and you'll miss it' cameo.
SPECIAL FEATURES (on the Blu-ray/DVD) • Audio Commentary with producers Mark Burg, Oren Koules and Peter Block • I Speak for the Dead: The Legacy of Saw: A feature-length behind-the-scenes feature • The Choice is Yours: Exploring the Props featurette
A new full series Saw box-set is also available on Blu-ray and DVD from 26 February 2018
Get the latest updates, reviews and unmissable series to watch and more!
Thank you for signing up to Whattowatch. You will receive a verification email shortly.
There was a problem. Please refresh the page and try again.