Jupiter's Moon | Bizarre Hungarian fable takes flight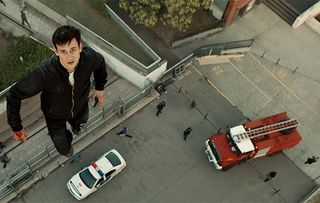 (Image credit: Curzon World Film Limited)
Shot down while attempting to cross the border between Serbia and Hungary, young Syrian refugee Aryan (Zsombor Jéger) miraculously survives. Even more incredibly, the episode leaves him with the ability to defy gravity, a gift that is immediately seized upon by corrupt Budapest doctor Gabor Stern (Marab Ninidze), whose career has been blighted after an operating room error.
Aryan's appearance is a godsend for the cynical, sceptical, cash-strapped Stern, and he sets about showing off his wide-eyed new protégé for money, exhibiting him as an angel to people hungry for contact with the seemingly divine. However, the ruthless police chief László (György Cserhalmi) who originally gunned Aryan down remains relentlessly on their trail…
Magic realism.
Combining East European social drama with literal flights of magic realism, Hungarian director Kornél Mundruczó's bizarre cinematic parable Jupiter's Moon will probably have you scratching your head in puzzlement. But its moments of vertiginous spectacle and thrilling action scenes will leave you breathlessly exhilarated as well.
The film's lapel-grabbing opening sequence is stunning enough on its own. Mundruczó gives us an extended travelling shot that follows Aryan, in the midst of a large group of refugees including his father, as he makes his fateful border dash through woods and fields and across a river. A furious car chase later in the story, similarly seamless, is exciting enough to go in a Bourne movie.
Yet it is the scenes of Aryan lifting off inside rooms or hovering over the rooftops of Budapest that will really leave you reeling. In the 40 years since Christopher Reeve's Superman allowed us to believe a man can fly, we've grown blasé on a steady diet of superhero movies. Jupiter's Moon restores our sense of wonder.
Certificate 15. Runtime 129 mins. Director Kornél Mundruczó
Available on DVD & Digital from Curzon Artificial Eye.
https://www.youtube.com/watch?v=ou5oxqQq95Q
Get the latest updates, reviews and unmissable series to watch and more!
Thank you for signing up to Whattowatch. You will receive a verification email shortly.
There was a problem. Please refresh the page and try again.