King of Hearts (1966) | The Alan Bates anti-war cult comedy gets a 4k restoration release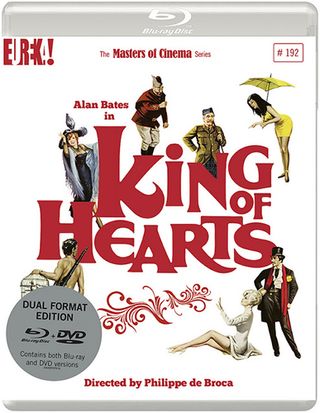 From Eureka Entertainment comes the 4k restoration of the 1966 anti-war cult classic in dual format (DVD/Blu-ray) as part of The Masters of Cinema Series
Sent into a French town to defuse a German bomb, French-speaking Scottish private Charles Plumpick (Alan Bates) finds the townspeople have fled and that the inmates from the local asylum have moved in. Quickly adopted and crowned as the 'King of Hearts', Charles is soon falling for pretty inmate Coquelicot (Geneviève Bujold)…
Set during the later days of World War One, this whimsical oddity from French director Philippe de Broca was a box-office flop that turned into a cult hit on the US college circuit in the late 1960s, and ran for five years in the 1970s at a cinema in Cambridge, Massachusetts.
Wearing its anti-war themes proudly, the loopy comedy-drama sets out to prove that war is hell and poses the question, 'Just who is crazy?' – and watching it now, it has a whole lot of heart that makes it a spiritual classic of the highest order. Both Bates and Bujold deliver attractive central performances, Georges Delerue's score is an enchanting delight, and the wonderful restoration brings the ancient cobbled alleys of the historic Senlis commune to magical life.
King of Hearts is presented here from a new 4K restoration (from Cohen Media Group) making its debut on home video as part of The Masters of Cinema Series, in a dual format edition (DVD/Blu-ray), with the following extras.
SPECIAL FEATURES • Original LPCM mono audio • Optional English subtitles • Audio commentary by film critic Wade Major • Geneviève Bujold on the making of King of Hearts (2017) • Interview with cinematographer Pierre Lhomme • Interview with producer Michelle de Broca • Eureka! trailer for the 2018 UK theatrical release of King of Hearts • Collector's booklet
https://www.youtube.com/watch?v=FsOInjrRcOo
Thank you for signing up to Whattowatch. You will receive a verification email shortly.
There was a problem. Please refresh the page and try again.