Marshall | Chadwick Boseman stars in biopic of African-American lawyer Thurgood Marshall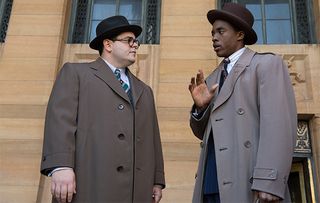 (Image credit: Sony Pictures Television)
His Name Means Justice.
Chadwick Boseman has been turning heads of late as Marvel's regal warrior T'Challa, aka Black Panther, but he's equally charismatic as a very different kind of hero in this biopic of Thurgood Marshall, the crusading lawyer who in 1967 became the first African-American Supreme Court Justice.
This film doesn't focus on that achievement. And neither does it highlight one of Marshall's landmark legal victories in the fight against segregation. Instead, Marshall revolves around a lesser-known case from far earlier in his career as an attorney for the NAACP when he arrived in Connecticut in 1941 to defend a black chauffeur (Sterling K Brown) charged with raping and attempting to murder his white socialite employer (Kate Hudson).
As it happens, the presiding judge (James Cromwell) is so blatantly biased that Marshall isn't allowed to speak in court but can only guide and prompt the inexperienced white lawyer, Sam Friedman (Josh Gad), who finds himself reluctantly taking the case.
The ensuing drama is an engaging blend of mismatched buddy movie and legal thriller, as the black Marshall and Jewish Friedman contend with prejudice in and out of the courtroom, not to mention the wiles of the prosecuting attorney, played with snooty disdain by Dan Stevens. In cinematic terms, Marshall is thoroughly conventional. No one would claim director Reginald Hudlin is breaking the mould when it comes to courtroom dramas. Yet it's undeniably stirring stuff all the same, with Boseman making the most of some resonant lines of dialogue - 'the only way to get through a bigot's door is to break it down' – and giving the character of Marshall an utterly magnetic swagger.
Certificate 15. Runtime 118 mins. Director Reginald Hudlin
Marshall available on DVD & Digital from Sony Pictures.
https://www.youtube.com/watch?v=UQ0-E6V_yPA
Get the latest updates, reviews and unmissable series to watch and more!
Thank you for signing up to Whattowatch. You will receive a verification email shortly.
There was a problem. Please refresh the page and try again.