The House of the Seven Gables (1940) | Universal's classic Nathaniel Hawthorne adaptation gets a first-time UK DVD release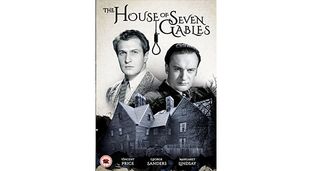 AN ANCIENT HOUSE! A MURDER SECRET! A HIDDEN TREASURE! In 1828, New Englander Gerald Pyncheon (Gilbert Emery) tells his sons Clifford (Vincent Price) and Jaffrey (George Sanders) that the family is facing bankruptcy and that the family home must be sold. Believing in an old family curse, Clifford doesn't mind, but Jaffrey objects, for he is convinced a fortune in gold is hidden within the walls.
When Gerald dies and Clifford is framed for his murder and sent to prison, Clifford's intended bride Hepzibah (Margaret Lindsay) throws Jaffrey out of the house and locks herself up from the outside world. But two decades later, a chance encounter with a man called Matthew Maule (Dick Foran) could reverse Clifford and Hepzibah's dark fortunes…
This striking adaptation of Nathaniel Hawthorne's 1851 Gothic novel was undervalued when it was released in 1940. But despite its slight production values and sentimental direction, the film scores best in the performances of the leads, especially George Sanders, whose slimy judge is almost a blueprint for his merciless Shere Khan in The Jungle Book.
Playing the innocent Clifford framed for murder, Vincent Price stepped into the role when original star Robert Cummings fell ill. Barely seen as the lead in director Joe May's The Invisible Man Returns, Price got to not only show off his skills as a romantic lead in Universal's pint-sized melodrama (where the sets had to be rebuilt to accomodate his 6ft 4in frame), he also lent his baritone to a little tune called The Color of Your Eyes.
As the forthright Hepzibah, Margaret Lindsay is quite engaging. It's a pity, though, that the actress didn't go on to do that much, despite being given a five-year contract by Universal on the back of her performance here. Co-stars Nan Grey, Cecil Kellaway, Alan Napier were also in May's Invisible Man sequel. Napier, of course, is best known as Alfred the butler in TV's Batman, the cult 1960s show in which Sanders and Price also got to play the iconic villains, Mr Freeze and Egghead.
This is the first time that the film has been made available on DVD in the UK. The Screenbound Pictures Region 2 release (opens in new tab) is presented in the 1.37:1 aspect ratio with Dolby Digital mono. There are no extras (mores the pity).
https://www.youtube.com/watch?v=0e1hPCLsD9M&list=PL7VO_03VbiEzJocNtU5sSXQhklQ0MF_9M&index=4
Get the What to Watch Newsletter
The latest updates, reviews and unmissable series to watch and more!