The Meddler | Rose Byrne has the mother of all mothers in Susan Sarandon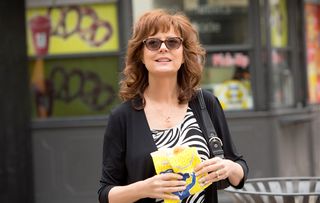 (Image credit: Jaimie Trueblood)
Seizing her best role in years with appealing gusto, Susan Sarandon is a joy as the title character of surprisingly winning comedy drama The Meddler – although the first impression she gives may leave you wanting to scream.
Newly widowed Marnie Minervini has left her former Brooklyn and New Jersey haunts behind to live near her unmarried screenwriter daughter Lori (Rose Byrne) in Los Angeles. And she can't stop interfering in Lori's life, bombarding her with phone calls and texts, turning up unexpectedly in her flat or offering unsolicited dating advice. She's not so much a helicopter parent as a giant zeppelin hovering overbearingly above.
"Charming love interest"
But just at the point when we are about to write off Marnie as a two-dimensional caricature, Sarandon lets us see her in the round. And what stands revealed is an immensely likeable person.
After the exasperated Lori flies to New York to shoot a TV pilot show, Marnie turns her attention to people she encounters, including a young Apple store worker (Jerrod Carmichael), a hard-up bride-to-be (Cecily Strong) and a chicken-keeping, Harley-riding retired cop (JK Simmons, providing Sarandon with a laid-back, utterly charming love interest). Inevitably, she starts meddling in their lives, too.
"Warm-hearted and generous"
Marnie's busybodying is, it turns out, partly a displacement activity to compensate for loneliness and grief after a long and happy marriage. But it springs from a warm-hearted and generous nature.
And this is where Sarandon excels. Modelling her performance on writer-director Lorene Scafaria's own mother – the inspiration for the film – she gives us something that is all too rare in cinema: an uplifting, uncloying portrayal of goodness.
Certificate 12. Runtime 101 mins. Director Lorene Scafaria
The Meddler debuts on Sky Cinema Premiere in Saturday 18 February and is available on DVD from Sony Pictues Home Entertainment.
https://www.youtube.com/watch?v=XbN58_kYZrU
Get the latest updates, reviews and unmissable series to watch and more!
Thank you for signing up to Whattowatch. You will receive a verification email shortly.
There was a problem. Please refresh the page and try again.