The Tiger: An Old Hunter's Tale | Epic adventure set in 1920s Japanese-occupied Korea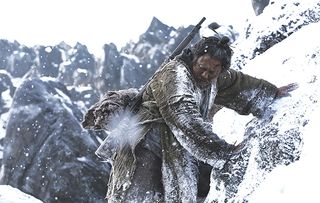 (Image credit: noh ju han)
There's a mystical-patriotic undertow running through The Tiger: An Old Hunter's Tale (Daeho), an epic period adventure that pits a legendary hunter against a majestic, even more legendary tiger in Japanese-occupied Korea in 1925.
The hunter, Man-duk, and the giant one-eyed tiger, feared and revered as the Lord of the Mountain, have a long and tragic shared history, as the film's prologue and subsequent flashbacks make plain. Indeed, a combination of grief and guilt has impelled Man-duk to put down his rifle and retire, much to the dismay of his impetuous 16-year-old son Seok.
In the meantime, the Japanese colonial governor, Maezono, has made it his mission to wipe out the country's tigers, symbols of Korean nationhood. And when Maezono dispatches troops into the region to kill its last remaining tiger, Man-duk is eventually drawn into the pursuit.
All this takes place against stunning natural backdrops of snowbound forests and a soaring mountain. The computer-generated tiger is a pretty impressive sight, as well, although the bloody action scenes that see him ripping through scores of soldiers and hunters don't have the nimbleness of the best Hollywood CGI.
But the film's performances offer ample compensation, with veteran South Korean actor Choi Min-sik, best known as the protagonist of revenge thriller Oldboy, doing a superb job of embodying the hunter's stubborn dignity and sorrow.
Certificate 15. Runtime 139 mins. Director Park Hoon-jung
The Tiger: An Old Hunter's Tale debuts on Sky Cinema Premiere on Wednesday 13 December. Available on Blu-ray & DVD from Eureka Entertainment.
https://www.youtube.com/watch?v=uTYTKLVKXgc
Get the latest updates, reviews and unmissable series to watch and more!
Thank you for signing up to Whattowatch. You will receive a verification email shortly.
There was a problem. Please refresh the page and try again.