UFO: The Complete Series on Blu-ray | Get your copy of Gerry Anderson's sci-fi while stocks last!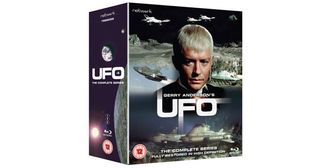 The first live-action TV series from Gerry and Sylvia Anderson, 1970's UFO remains a benchmark sci-fi production. Long-awaited on Blu-ray, it's presented here in a new HD restoration, with all 26 episodes, and a wealth of bonus extras.
After 10 years development in top secrecy, Supreme Headquarters Alien Defence Organisation (aka SHADO) goes live on 16 September 1980. Its aim - to combat the threat of an alien invasion from a dying race that abducts humans to repair their own decaying bodies. SHADO's dedicated operatives, headed up by Commander Ed Straker (Ed Bishop), fight a covert war against Earth's terrifying new menace: on land, sea, air and in space!
Following a pristine new restoration, this Blu-ray box-set from Network features all 26 episodes with original mono or 5.1 soundtracks, alongside the following special features:
• From Earth to the Moon: New feature-length documentary featuring interviews with many of the surviving cast. • The Women of UFO: New documentary discussing the improving sexual equality depicted in the series. • Identified: SHADO New Recruits Briefing: New SHADO briefing film narrated by Matt Zimmerman. • 600-page collector's book edited by archive TV historian Andrew Pixley. • Film material, including textless episode title backgrounds, textless end titles, stock footage, TV spots, extra footage for Identified and Exposed, unused footage from Timelash and The Long Sleep, and Italian trailers. • Audio commentaries: Identified with Gerry Anderson and Sub-Smash with Ed Bishop. • S.I.D. Computer Voice Session and audio out-takes for these sessions and Kill Straker! • Archive Ed Bishop audio interview from 1986. • Tomorrow Today: Future fashions with Sylvia Anderson. • Extensive image galleries. • Ron Embleton-designed poster (available for a limited time only from from networkonair.com).
• Also available from Amazon (while stocks last)
https://youtu.be/CFaFrVUDogo
Get the What to Watch Newsletter
The latest updates, reviews and unmissable series to watch and more!