A United Kingdom | David Oyelowo and Rosamund Pike shine in Amma Asante's interracial romance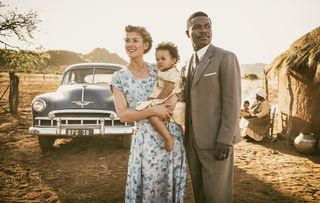 Casting light on neglected history
Director Amma Asante follows up 2013's Belle with another handsome period drama that casts light on neglected figures from history. Her protagonists in A United Kingdom are Seretse Khama (David Oyelowo), crown prince of Bechuanaland (modern Botswana), and Ruth Williams (Rosamund Pike), the London office worker he married in 1948 in the face of fierce opposition from their families and the British and South African governments.
Theirs is a fascinating story, and they have found a sympathetic chronicler in Assante. Admittedly, her direction is a tad foursquare, contrasting damp, grey London, where the couple meet while Seretse is studying law, with the open skies and sun-baked earth of the African veldt to which they travel on their marriage.
And she is not particularly subtle when it comes to taking sides, with Jack Davenport's snobbish British diplomat making an all too obvious villain. This is a smoothed out version of the real history, it's clear. But Oyelowo and Pike bring immense warmth and dignity to their roles. And thanks to them we're cheering the romance at the heart of the film from first to last.
Certificate 12A. Runtime 111 mins. Director Amma Asante
A United Kingdom debuts on Sky Cinema Premiere on Sunday 2 October. Available on Blu-ray, DVD & Digital from 20th Century Fox Home Entertainment.
https://www.youtube.com/watch?v=LKPDNKdpys8
Get the latest updates, reviews and unmissable series to watch and more!
Thank you for signing up to Whattowatch. You will receive a verification email shortly.
There was a problem. Please refresh the page and try again.