Who's That Knocking at My Door (1967) and Alice Doesn't Live Here Anymore (1974) | Two early Martin Scorsese classics get a BFI DVD release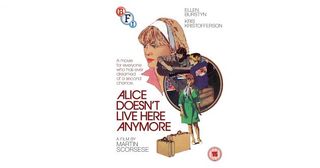 Martin Scorsese's Who's That Knocking at My Door (1967) and Alice Doesn't Live Here Anymore (1974) get a BFI DVD release
Shot in black and white on the streets of New York's Little Italy where Martin Scorsese grew up, Who's That Knocking at My Door (1967) stars Harvey Keitel as JR, a streetwise Catholic adolescent who falls in love with an independent and free-spirited college graduate (Zina Bethune) who causes him to call into question his whole way of life.
Hailed as 'a great moment in American movies' by film critic Roger Ebert, Scorsese's debut feature film was made while he was still at New York University's Film School, and re-released after he had hit the big time. It is a powerful study of obsessive love that introduces many of the themes and techniques that he would go on to revisit in Mean Streets, Taxi Driver and GoodFellas.
The BFI release includes a partial audio commentary with director Scorsese and screenwriter Mardik Martin; From the Classroom to the Streets: The Making of Who's That Knocking at My Door (13min) and a booklet featuring an essay on the film.
Having established himself as a director of note with Boxcar Bertha and Mean Streets, Martin Scorsese's fourth feature, Alice Doesn't Live Here Anymore (1974) is a completely original screen classic – a touching, funny and poignant tribute to the independent spirit and dreams of ordinary Americans.
Ellen Burstyn (in an Oscar-winning performance) gives one of cinema's great performances as the attractive if dowdy widow Alice Hyatt, who leaves her small town in New Mexico with her precocious young son Tommy (Alfred Lutter), determined to make a new life as a singer. When money problems force her to settle in Tucson, she takes a job in a diner and begins to fall for rancher David (Kris Kristofferson).
The BFI DVD release includes a partial audio commentary with Scorsese and actors Burstyn, Kristofferson and Diane Ladd; Second Chances... The Making of Alice Doesn't Live Here Anymore (20min); original theatrical trailer (2min) and a booklet featuring essays on the film.
Get the What to Watch Newsletter
The latest updates, reviews and unmissable series to watch and more!