Mystery of Mishti Sharma revealed in Neighbours?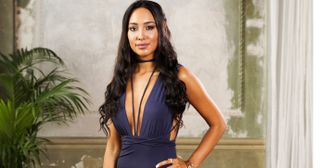 Mishti Sharma may be about to throw some light on the secret she's hiding, actress Scarlet Vas tells Soaplife…
It's been less than a month since stunningly beautiful and superfit Mishti Sharma [Scarlet Vas] arrived on Ramsay Street with her sister, Dipti, and the rest of the family. But it's been clear from the off she's hiding something – and we could be about to find out what.
Who does Mishti start to confide in? "Mishti and Leo have become very close, so much so that Mishti starts dropping her guard with him and she begins to confide in him. And what she has to say really surprises him!"
We've seen Mishti and brother-in-law Shane holding hands by the pool. Are they having an affair? "Let's just say whatever Mishti's secret is, it's complicated and it has the potential to cause problems within the family. This is Ramsay Street so nothing stays secret for long! Mishti definitely wants Shane to keep her secret a secret, though!"
It's been rumoured Mishti might be gay… "Her past has some grey areas. But you'll have to wait and see just what she's been hiding."
What's the real Mishti like? "She can be harsh and she's also righteous about staying within the law. She certainly knows what she wants and how to get it, but she's kind, warm-hearted and sweet, too."
Would you say you are like her? "In some ways. We're both into fitness and we're close to our sisters."
How are you enjoying being in Neighbours? "Getting the role of Mishti Sharma has been a dream come true! What an amazing opportunity to be able to join such an amazing team."
What was your first day on set like? "It was quite nerve-wracking, but everyone was so friendly and welcoming. It all went very quickly. Now I feel really at home and I love my screen family. It feels like I've known them all for a lifetime."
Were you a fan of Neighbours before you became one of them? "I used to watch the show every single night when I was younger. I never missed an episode, so to meet every one as their true selves was really exciting."
Get the latest updates, reviews and unmissable series to watch and more!
Thank you for signing up to Whattowatch. You will receive a verification email shortly.
There was a problem. Please refresh the page and try again.