7 things you didn't know about Neighbours' Joe Davidson - AKA Cassius Grady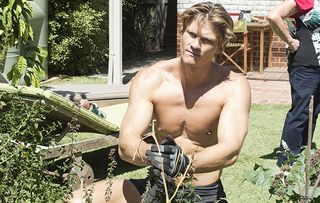 We reveal all about the man behind the Ramsay Street killer... Written by Claire Crick
Ramsay Street's Cassius Grady (Joe Davidson) has been harbouring a dark secret ever since he arrived in Neighbours. But at last the truth is out! He's the one who killed Hamish Roche who also happens to be his father… making Tyler Brennan innocent and also Cassius's half brother.
But while we still know very little about Cassius's backstory, here is a little insight into Neighbours star Joe Davidson, who plays him…
1. He comes from a big family
Joe might play a lone ranger in Neighbours, but in real life he is surrounded by family. With four brothers and one sister he certainly lead a chaotic childhood. He recently revealed to fans on social media that he spent his youth surfing, rollerblading, playing football and trying to beat his siblings at Mario Kart!
2. He almost died last year
Joe's brush with death came when his appendix burst not long before he auditioned for Neighbours. He revealed the shocking news on his Instagram page at the same time it was announced he was joining the show!
3. He's a Sagittarius
Born on the 18th December 1991, Joe is the youngest of his five siblings. He's admitted on Instagram that the best thing about coming from a big family is the fact you get to eat birthday cake at regular intervals throughout the year. He told his fans: "6 kids, plus mum and dad = 8 cakes in a year. My favourite was my dinosaur cake!"
4. He's a huge Steve Irwin fan!
Joe's admitted that he has always been a fan of the Australian zookeeper and conservationist, calling him "a true legend" on his Facebook page. Joe even went to see Steve in a live show before he tragically died in 2006 after being stung by a stingray while filming his TV show.
5. He loves the fans of Neighbours
Joe's revealed that there's nothing he likes more than a good fan theory, especially it involves his character, Cassius. In fact the actor recently told Digital Spy: "There are so many die hard fans of Neighbours. It's great how much effort they put in. Power to the fans!"
6. He doesn't mind going shirtless on screen
The fact that Cassuis is rarely seen with a shirt on in Neighbours is a much-debated topic online. But Joe doesn't seem to mind the frenzy he's caused. He told Digital Spy: "If the writers had written Cassius as a piece of meat then I would think it wasn't right, but he was doing it to manipulate everyone into thinking he was a gardener and not a murderer!"
7. He believes Cassius can be redeemed
His character has just been revealed as a murderer, but Joe believes he isn't a bad person. He recently told Radio Times: "Deep down I don't think Cassius is a bad guy, he's just made a big mistake. He feels terrible for the fact Tyler's in prison because of him!"
Steve Irwin pic: Startraks Photo/REX/Shutterstock
Get the latest updates, reviews and unmissable series to watch and more!
Thank you for signing up to Whattowatch. You will receive a verification email shortly.
There was a problem. Please refresh the page and try again.