'I'm not ready to go back to Coronation Street!' – actor Ryan Thomas on quitting Weatherfield for Ramsay Street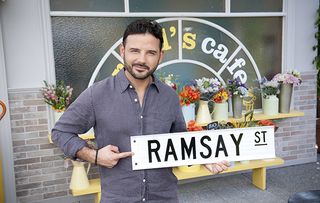 Coronation Street's Jason Grimshaw, actor Ryan Thomas has talked about starring in Neighbours as Rafael Humphries, and why he's not returning Corrie.
We thought Jason Grimshaw was in Thailand! So what's he doing in Australia? Actor Ryan Thomas has talked to Soaplife about his new role as Neighbours' Rafael Humphries.
What's the story?
We're used to seeing actor Ryan Thomas in Weatherfield as Corrie's Jason Grimshaw. But now he's swapped the rain-soaked cobbles for the sunny streets of Erinsborough as the mysterious Rafael Humphries.
"It felt bizarre and surreal, but it was also a dream come true," Ryan enthusiastically told Soaplife. "Even now I can't quite believe it happened!"
It's a bit surreal for us, too, Ryan!
What's happening in Neighbours? See the latest soap storylines.
Ryan Thomas chats to Soaplife about swapping Coronation Street for Ramsay Street, and what we can expect from his character Rafael
Soaplife: So, Ryan, how come you got to be in Neighbours?
Ryan Thomas: "I was on holiday with my nine-year-old daughter, Scarlett. My agent called and asked me if I'd like to take on the role of Rafael in Neighbours. Rafael sounded such a dark, mysterious character, one that I could really go on a journey with."
S: Tell us more about him!
RT: "He pitches up in Erinsborough. He doesn't know anyone and he has no family links to the place. He's a troubled soul, angry, upset and an emotional wreck. He's very guarded and he certainly isn't out to make friends. It's a mystery why he's on Ramsay Street. Is he looking for answers? Is he out for some kind of revenge? You'll have to wait for his story to unravel…"
S: But where has he come from?
RT: "All we know about him is that he lived with his mum in Brazil until he was 10-years-old. Then he went to live with his dad in Manchester. He's a Northern lad to all intents and purposes, so I don't have to speak with an Aussie or a Portuguese/Brazilian accent!"
S: We've heard rumours he's going to fall for an Erinsborough resident!
RT: "He does develop feelings for someone when he certainly hadn't intended to. He really doesn't want any emotional attachments but he might not be able to help himself."
S: How many episodes of Neighbours are you in?
RT: "I'm in 18, so it's quite a good run. Would I have liked to stay longer? If it wasn't for Scarlett, maybe, but Australia is just too far away from home and her. I love the outdoorsy lifestyle over there. I got to spend a lot of time at the beach and, after a day's filming, I'd go and watch the sunset on the sands rather than going home to watch the telly!"
S: Is filming Neighbours very different to filming Corrie?
RT: "Yes and no. It's the same process, but the cast in much smaller on Neighbours – it's around 30 as opposed to more than double that on Coronation Street. I like that because you get to see the same people all the time and there's a real familiarity amongst the characters and cast. On Corrie, you might not see some members of the cast for six weeks at a time."
S: Are there other benefits to having a smaller cast?
RT: "It also means it's much easier to remember names! Although with me being in the show, there was a bit of confusion whenever 'Ryan' was called. Toadie is played by Ryan Maloney, of course, so he became 'Ryan One' while I was 'Ryan Two'. Another aspect I really like was that the whole production takes a couple of breaks over the year so everyone gets the chance to recharge their batteries. That only happens at Christmas in Corrie and the other British soaps."
S: What's next for you now?
RT: "I don't know yet! That's one of the exciting things about being in this business – you never know what's around the corner. What I'd love to do in 2018 is work with my brother, Adam Thomas, who left Emmerdale last year. I don't know what in exactly, but we've always wanted to work together. Right now, though, it's back to the drawing board for us both. Maybe we'll end up auditioning for the same role. If that happens, I'll be out the door because Adam will get the part every time! I'm really proud of him, though."
S: What about going back to the Street?
RT: "Coronation Street is forever in my heart, but I'm not ready to go back yet. That's not where I'm at. It's over a year-and-a-half since I left, but it feels like a lifetime ago. Never say never, but it would be like going backwards rather than moving forwards if I went back now. It's not the right time for me. There's still so much I want to do."
S: Anything in particular?
RT: "I'd love to be in a gritty, raw drama like Our Girl. Now that's definitely up my street!"
Neighbours, Channel 5
Get the latest updates, reviews and unmissable series to watch and more!
Thank you for signing up to Whattowatch. You will receive a verification email shortly.
There was a problem. Please refresh the page and try again.