'Paul vows revenge and will rise from the ashes again!' promises Neighbours star Stefan Dennis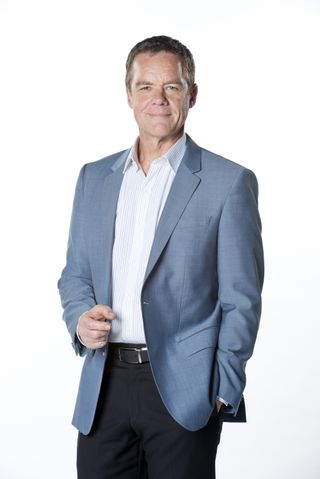 As Christmas comes to Ramsay Street, Paul Robinson's dodgy dealing finally catches up with him and he stands to lose everything! Neighbours star, Stefan Dennis, gives us the lowdown on the mighty Paul's fall from grace...
Paul's business empire is about to crumble, after his illegal dealings are exposed! What happens?

"It's been one screw-up after another. Paul's mistrusted his nephew, Daniel [Tim Phillipps], and Daniel has mistrusted Paul. All Daniel wants is for Paul to tell the truth about what he's involved in. But Paul's not smart enough to admit, 'I stuffed up and I'll take the rap and maybe it will all blow over eventually'. But that's the character of Paul. He's the mighty businessman and very smart, shrewd, cunning."
So how do you feel about your character, Paul, losing everything including his luxury penthouse?
"Don't take my penthouse! I love my penthouse with the beautiful skyline. Other people on set used to go, 'You work in the penthouse!' But of course it is just a studio set! It's funny because before that Paul Robinson owned what was arguably the worst house in Ramsay Street despite him being the richest dude in the world. So it was nice to take him from that to the penthouse."
Daniel is partly to blame for Paul's downfall. How does Paul react to Daniel's betrayal?
"There's lots of hate going on there. There's a wicked hatred coming from Paul because Daniel has crucified him. He has banged in every nail. Paul's not a happy camper at all. If it had been someone else Paul would have set out in such a revengeful way. He would have hit back big time. But because it's Daniel and he's family, he's got no revenge, but he's big on hatred."
Is this the end for Paul? Or can he claw his way back to the top again?
"Oh, he vows vengeance, he will rise from the ashes again! He did it when he first came back in 2004. He came back to kill everyone in Ramsay Street! He started the big fire at Lassiter's and killed Gus Cleary. He's still gotten away with that scot free to this day. The only difference then was Paul had a squillion dollars. But this time he's got nothing. But he will do something, it's Paul!"
Neighbours returns on Channel 5, Monday, January 4 and, for the first time ever, the Aussie soap will broadcast on the same day in both the UK and Australia
Get the latest updates, reviews and unmissable series to watch and more!
Thank you for signing up to Whattowatch. You will receive a verification email shortly.
There was a problem. Please refresh the page and try again.