T Bone's return rocks Piper and Tyler says Neighbours' Mavournee Hazel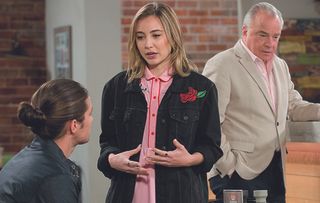 It could be the beginning of the end for loved-up Piper and Tyler in Neighbours, Mavournee Hazel tells Soaplife...
With Piper Willis about to turn 18, she is hoping that all the fuss about the age difference between boyfriend Tyler Brennan and herself will stop
What's the story?
The two soulmate are hoping they will be allowed to get on with their lives. Sadly, it's not to be. "Piper and Tyler start going through a really rocky patch, but it's got nothing to do with their ages," Mavournee Hazel told Soaplife. "It's actually because T Bone's back in town and Hamish Roche, Tyler's newly discovered dad, sees Piper leaving the Backpackers after she's secretly visited T Bone." Hamish loses no time in telling Tyler, with the result that Piper's relationship is in serious jeopardy.
What's happening in Neighbours? Read the latest storylines
Mavournee Hazel reveals all to Soaplife
Soaplife: Why doesn't Piper tell Tyler that T Bone's back in Erinsborough?
Mavournee Hazel: "Because she doesn't want any fuss. What happened back in the spring meant nothing and she doesn't see the point in telling Tyler and dragging it all up again."
S: Is that a mistake?
MH: "Yes, it is. She's got nothing to hide and she should just be honest. T Bone's return is the catalyst for things beginning to go very wrong for Piper and Tyler."
S: How does Tyler find out?
MH: "Hamish takes great pleasure in telling him. He insinuates that Tyler can't trust Piper as she's clearly hiding stuff from him, not least that she's seeing another man. Hamish is playing on Tyler's insecurities about the relationship. He's a very devious and manipulative character who wants Tyler wrapped around his little finger."
S: In addition to this, Piper's also feeling pressure over her exams, isn't she?
MH: "Yes. She's really stressed out about that. She's determined to do well, even though she has no idea what she wants to do with her life and she doesn't know whether to take a gap year or go to university…"
S: Will her work be affected if things aren't good with Tyler?
MH: "Absolutely. If problems in her relationship cause her to mess up her exams, she'll blame Tyler for it, even though it will actually be Hamish's fault for making trouble in the first place!"
S: We're sensing hard times ahead for Piper and Tyler…
MH: "You sense right! It's going to get really nasty. After everything that's happened to Piper, it can't be long before she has a Britney Spears meltdown, circa 2007!"
Neighbours, Channel 5
Get the latest updates, reviews and unmissable series to watch and more!
Thank you for signing up to Whattowatch. You will receive a verification email shortly.
There was a problem. Please refresh the page and try again.