Sonya and Mark succumb... and kiss in Neighbours!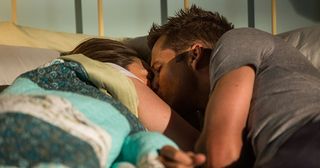 (Image credit: Jackson Finter)
Sonya Rebecchi and Mark finish up kissing in an upcoming episode! But Sonya instantly regrets it and then hits the bottle in Neighbours
In the wake of her split with Toadie and the loss of her baby, Neighbours' Sonya Rebecchi is in a state, as is Mark Brennan. He's devastated that Sonya lost the baby she was carrying for him as a surrogate, and is in turmoil.
When Mark opens up to Tyler about his confused feelings for Sonya, his younger brother urges him not to act on them. But will Mark listen? When the pair end up spending the night together, a kiss is shared... but, later, Sonya turns to drink.
Are Mark and Sonya going to become an item or are they just good friends? And will either of them be able to overcome their pain and get their lives back on track?
Confused friends Sonya and Mark have shared a kiss. Will their friendship ever be the same again?
Sonya invites Mark over when she finds herself unable to get to sleep. Things soon turn passionate…
…and the friends end up kissing!
…and the friends end up kissing!
Afterwards, an awkward atmosphere quickly descends on their friendship.
Sonya, for one, regrets their kiss. Does Mark feel the same or does he want to be more than friends with Sonya?
With her life and career in a mess, Sonya takes out her anger on Steph.
Feeling as if Steph is interferring, Sonya lays into the mechanic.
When Steph turns her back on Sonya, the single mum breaks down.
At rock bottom, former alcoholic Sonya reaches for the bottle… Is this the end of her hard-earned sobriety? Watch Neighbours on Channel 5 from Monday, April 10
Get the What to Watch Newsletter
The latest updates, reviews and unmissable series to watch and more!