Sonya and Toadie reunited? 'She's still finding it hard to forgive him,' says Neighbours' Eve Morey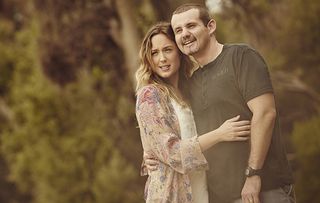 Sonya Rebecchi wants to reconcile with estranged husband Toadie in Neighbours! But will she? That's what we asked Eve Morey…
While Sonya Rebecchi isn't quite ready to relight the fire of her once-passionate marriage to Toadie, she is slowly starting to send out encouraging signals in Neighbours. Which is confusing, as she has virtually given her blessing to the potential fling between her husband and Amy Williams!
"Sonya sees Toadie and Amy together and she thinks they could make a go of it," Eve Morey told Soaplife. "But, actually, what she really wants is reassurance from Toadie that she's the only woman for him!"
But is she?
So why doesn't Sonya just tell Toadie how she really feels? "They really have to find their way back to each other slowly after all that's happened in their lives. It's been an incredibly harrowing six months or so for Sonya. She does say something when it becomes clear that Toadie only sees Amy as a friend. She tells him she wants to start their relationship counselling sessions again. Toadie's thrilled, but he manages to keep his emotions in check. Sonya just wants to take things very slowly."
What happens at their first session? "Communication between the two of them isn't easy, which just goes to show what can happen in a relationship if issues are not dealt with as they occur. Sonya's still finding it very hard to forgive Toadie over the fake Dee Bliss discrepancy and the issues with Willow Somers."
Will they get back together? "Hopefully! Ryan [Moloney, who plays Toadie] and I would be happy about it because we love working together. But there's still a very long way to go before they're back to being how they were. And who knows what might happen in the future? In Ramsay Street, you can never take anything for granted!"
You're having a baby in real life… How will Neighbours cope with that? "There'll be lots of close-up shots of Sonya and she'll suddenly start to carry a very large handbag in front of her wherever she goes! When I eventually go off on maternity leave, Sonya will probably go off and visit her son, Callum."
Neighbours, Channel 5
Get the latest updates, reviews and unmissable series to watch and more!
Thank you for signing up to Whattowatch. You will receive a verification email shortly.
There was a problem. Please refresh the page and try again.