Disaster and danger strikes Karl Kennedy, Susan and Kirsha during a camping trip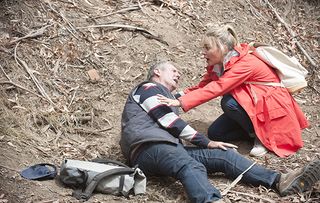 Susan and Kirsha get lost in the bush during Erinsborough High's leadership camping trip
Susan, Karl Kennedy and Kirsha are in big danger! Out in the bush, students and teachers are gathered for the Leadership camp.
Kirsha's anxious - and her stress levels rocket when Poppy starts picking on her. The bully is caught in her tracks and sent home. Susan lends her support to distressed Yashvi but the pair get detached from the group. Soon, Susan and Kirsha are lost.
It takes hours for the others to realise they've lost Susan and Kirsha. Yashvi and Xanthe head off to look for them before raising the alarm.
With daylight fading, they're running out of time to find them before nightfall. Panicked Karl defies Toadie's advice to stay put and heads off the bush to find his wife. But disaster soon strikes the doc, too…
Karl Kennedy is hurt!
Karl Kennedy is hurt!
Poppy picks on Kirsha.
Kirsha, who was already anxious about going on the trip, is wounded by Poppy's cruelty.
Bully Poppy is caught in the act by Yashvi and Susan.
Susan sends Poppy home.
Susan then hangs back to console upset Kirsha.
The pair soon realise they become detached from the rest of the group. They're lost!
It takes a while before Susan and Kirsha's absence is noted.
Xanthe and Yashvi head off to try to find Susan and Kirsha.
Having heard that his wife Susan has got lost in the bush, Karl arrives to search for her. The poorly doctor soon collapses.
Xanthe finds Karl collapsed on the ground. He's hurt his leg.
Can Xanthe get help for Karl? And will Susan and Kirsha be found? Watch Neighbours on C5 from Monday 7 May.
Get the latest updates, reviews and unmissable series to watch and more!
Thank you for signing up to Whattowatch. You will receive a verification email shortly.
There was a problem. Please refresh the page and try again.