Courtney tries to seduce Leo - how will he respond?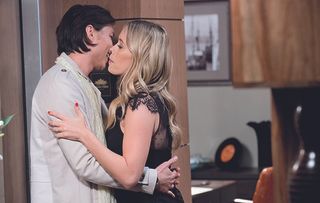 Courtney makes a move on Leo! How will he respond? Plus it's payback time as Gary takes the ultimate revenge on Terese...
Leo is taken aback when Courtney asks him to stay the night with her and makes a move! Will Leo be seduced and what exactly is Courtney's game - after all she's in a relationship with Paul!
Elsewhere in Neighbours, Gary is doing his best to throw himself into his work following his split with Terese but is struggling especially as all the staff at Lassiters know about the dramatic wedding day antics!
When Terese later asks him to chuck away her sofa, he finds it odd that she's thinking about furniture, until Paul lets slip that it's the very same sofa he and Terese enjoyed a passionate romp on!
A goaded Gary is furious and decides it's payback time for Terese. Uh oh...what's he got in mind!?
Courtney makes a move on Leo but how will he respond?
Courtney makes a move on Leo but how will he respond?
Feeling betrayed by Terese, Gary sets out to humiliate her at the Lassiters re-opening ceremony.
Having discovered she enjoyed a passionate romp with Paul behind his back, he decides to put some unwanted furniture to good use.
He scrawls "CHEATER" on the sofa, on which the pair enjoyed their steamy tryst and places it in prime position
Terese, who is at the Lassiters grand re-opening in front of a group of assembled guests, is appalled to realise the offending item is sitting behind her as she makes her speech. Has Gary gone a bit too far?
Meanwhile Leo comes to Courtney's assistance when she asks for his help with the Liveability judging tour.
Courtney is very grateful when he comes to her rescue and later on she thanks him for his support.
However he's shocked when she later suggests he stays over at her place!
As Courtney makes a move on Leo and goes in for a kiss, how will Leo respond and what about Paul? What exactly is Courtney's game? Watch Neighbours on Channel 5 from Monday 16 October
Get the latest updates, reviews and unmissable series to watch and more!
Thank you for signing up to Whattowatch. You will receive a verification email shortly.
There was a problem. Please refresh the page and try again.