Susan and Dipi spy on 'saucy' masseuse Courtney!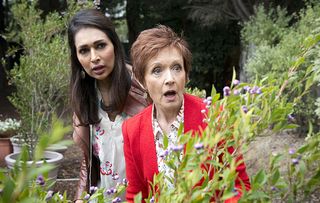 Susan and Dipi spy on masseuse Courtney suspecting her of giving their men 'extra-special' massages, what's really the truth?
Susan and Dipi want to know why their men just can't seem to get enough of masseuse Courtney. As their guys' trips to her salon increase, the wives up the anti and start spying on her.
The plot thickens when Courtney drops a piece of paper with her clients' details on it. Susan and Dipi are horrified to see Karl and Shane's names among the list - and further appalled when Sheila reports having seen Karl leaving Courtney's treatment room naked and clutching a box of tissues! With that, it's decided that Courtney is giving her male customers more than just a massage at the end of her sessions?
As things spiral, Terese gets involved and fires Courtney from the Lassiter's complex. But are the gossips right - is Courtney behaving inappropriately with the Erinsborough menfolk?
Susan and Dipi spy on Courtney hoping to find out why their men are loving the mausseuse so much…
Karl thanks Courtney for a great massage.
But why is the doc so grateful for Courtney's services? What is she doing that is so special?
As Karl gives Courtney a thank you hug, he has no idea Susan and Dipi are spying on them.
Susan and Dipi gasp as they see Karl embracing Courtney. Is there truth in the gossip? Is Courtney giving their guys more than just a massage. Watch Neighbours on C5 from Monday 18 September.
Get the latest updates, reviews and unmissable series to watch and more!
Thank you for signing up to Whattowatch. You will receive a verification email shortly.
There was a problem. Please refresh the page and try again.