Have the Tanaka twins finally found their real father in Neighbours?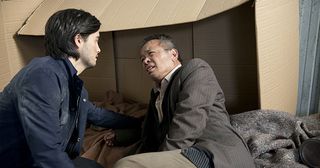 The twins hunt for their dad has unexpected consequences....
Ever since his arrival in Erinsborough, doctor David has been a man on a mission, desperate to track down his and his twin Leo's biological dad.
After much rifling through hospital records and detective work he's pieced together enough clues to lead him to an address.
However, things don't go to plan when the brothers comes face to face with a man, Bradley Satchwell, who he believes could be their father. What is Bradley's true identity? And are David and Leo barking up the wrong family tree?
David tracks down the man he believes to be his and Leo's father…
David tracks down the man he believes to be his and Leo's father…
Earlier on, having put in hours of groundwork, David's search for their father leads him to an address.
He's shocked to see a man sleeping rough in a cardboard box.
Could this man, who goes by the name of Bradley Satchwell, be their real father?
The stranger is clearly in a bad way.
As the twins try and help him to his feet, he yells out in pain and attempts to attack them.
Despite trying to fight his corner, the twins insist he's going straight to hospital and needs medical attention. Will the boys get the answers they want at the hospital? Could this man really be their long lost father? Watch Neighbours on Channel 5 from Monday 24 October.
Get the latest updates, reviews and unmissable series to watch and more!
Thank you for signing up to Whattowatch. You will receive a verification email shortly.
There was a problem. Please refresh the page and try again.