Hamish found dead in the Cannings' spa… Neighbours turns into CSI Erinsborough!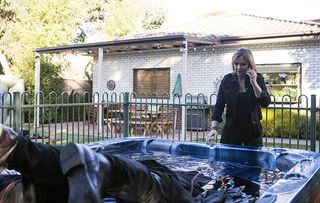 Hamish is found dead in the Cannings' spa and a whole heap of residents are suspects
Steph gets a grisly wake up call when she wanders out back at the Cannings and finds Tyler's dodgy dad, Hamish Roche, dead in the family's hot tub! As the news spreads, many of the locals start acting suspiciously… Who dunnit?
The gala party ends in disaster as Kirsha when lobs a sparkler at some fireworks, causing an explosion which lands her in hospital…
Piper decides to try to put things right with Tyler but a surprise visit to his boat goes dangerously wrong when she discovers Louise is at the helm… Can Piper escape with her life?
Courtney puts some moves on Paul at a silent disco - but will he go for the blonde or is he still hung up on Terese?
Hamish Roche, Tyler's dodgy dad, is found dead in the Cannings' hot tub by Steph!
Piper turns up on Tyler's boat to surprise him…
Erinsborough residents get dressed up for the gala event and fireworks.
Reunited couple Toadie and Sonya pucker up.
The fireworks begin at the gala…
Hamish is found dead in the Cannings' hot tub by Steph!
Detectives seal off the crime scene and start testing the forensics.
Hamish had a lot of enemies and it soon transpires there are many suspects for what looks like murder.
Kirsha ends up in hospital after an explosion at the gala fireworks.
Doctors suspect Kirsha's hearing may be permanently damaged.
Having snuck on board of Tyler's boat, Piper was taken against her will by Louise, and has now washed up on the beach…
Piper comes to and tries to clamber to safety.
She's freezing and dehydrated…
Piper is in serious trouble…
… and soon collapses. Will anyone find Piper before it's too late?
Kirsha returns home but Yasvhi still feels deeply guilty about what happened.
At a Silent Disco, Courtney makes moves on Paul. Will he go for it with the blonde or his he still hung up on Terese? Watch Neighbours on C5 from Monday 6 November.
Get the latest updates, reviews and unmissable series to watch and more!
Thank you for signing up to Whattowatch. You will receive a verification email shortly.
There was a problem. Please refresh the page and try again.