Fertility thief… Izzy STEALS Karl's sperm in Neighbours!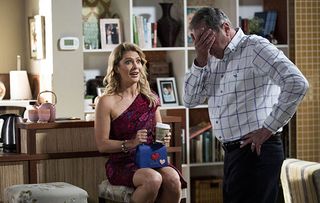 Izzy steals a sample of married Karl's sperm when he refuses to father another child with her
The Kennedy couple come close to the edge this week when Karl appears to be considering Izzy's request for him to father another child. When Susan tells him it will be the end of their marriage, however, Karl listens and turns Izzy down. But Izzy isn't put off. As luck would have it, she finds out Karl's been taking part in fertility trials. Sneaking into the hospital, she gets hold of Karl's sperm sample and steals it! Will Holly, who finds the empty vial, tell her dad what her mad mum has done? [check out the latest Neighbours storylines]
Ben's given food for thought about his future when he visits Oakey where his dead dad Drew grew up. Will he leave Erinsborough?
An awful situation kicks off beside Lassiter's Lake when Mark lashes out at Paige and Jack and accidentally sends baby Gabe careering into the water in his buggy…
Izzy puts pressure on Karl to agree to father a second child.
Mark Brennan becomes a pawn in Izzy's game with Karl.
Susan tells Karl their marriage will be over if he goes ahead with Izzy's request to have another child.
When Izzy is turned down by Karl, she takes action…
Having found out he has been taking part in a fertility trial, Izzy steals Karl's sperm from the hospital!
Ben journeys to Oakey where his dead dad Drew grew up.
Ben's offered a job with his uncle Kirky. Will he take it and leave Erinsborough for a new start in Oakey?
Paige and Jack are having a picnic by Lassiter's Lake.
Jealous Mark sees the couple and, in anger, kicks a rugby ball in their direction…
Gabe's buggy, with Gabe inside it, careers in to the lake…
Jack rescues his son while terrified Paige yells at her ex, Mark.
Will Paige ever forgive Mark? Watch Neighbours on C5 from Monday 5 March.
Get the latest updates, reviews and unmissable series to watch and more!
Thank you for signing up to Whattowatch. You will receive a verification email shortly.
There was a problem. Please refresh the page and try again.