Car crash birth? Will Paige and her baby survive in Neighbours?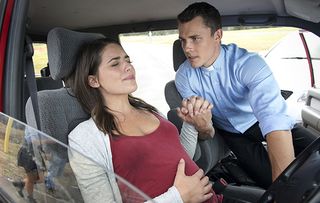 A car crash leaves pregnant Paige and her baby fighting for their lives while Jack finally finds out he's the father.
On the verge of her move to Queensland, pregnant Paige is desperate to do the right thing and tell Jack he's the father of the baby. She's had a few goes at it - but each time she's failed. This week, after another fumbled attempt to drop the baby bombshell on the priest, a car crash changes everything and leads Jack to find out…
The awful incident leaves Paige's unborn baby in dreadful danger. The impact with Brennan's police car has totalled the doors, petrol's leaking and she's starting to haemorrhage! With the emergency services unable to get to the scene quickly, it's down to Tyler to cut Paige from the wreckage to get her to the hospital. Will Karl and co be able to save the unborn tot? And will Jack decide to quit the church in favour of parenthood?
A car crash puts pregnant Paige in serious danger.
A car crash puts pregnant Paige in serious danger.
As the terrifying incident unfolds, priest Jack finally finds out he's the father of Paige's baby!
Copper Mark is horrified to see he's smashed into the side of pregnant Paige's car.
There's panic at the scene as the emergency services can't get to pregnant Paige…
A paramedic updates Jack and Mark - Paige's prognosis isn't good.
With pregnant Paige stuck in the car and seriously injured, Jack tries to keep her calm and vows to stay by her side.
Tyler comes back from the garage with an angle grinder, determined to free pregnant Paige from her smashed up car.
Pregnant Paige is in serious trouble. She's haemorrhaging.
Jack clutches Paige's hand as he tries to keep the expectant mum calm.
At the hospital, Paige's loved ones are desperate for news as she undergoes surgery.
Will Karl have good news following Paige's emergency surgery? Watch Neighbours on C5 from Monday 13 March.
Get the latest updates, reviews and unmissable series to watch and more!
Thank you for signing up to Whattowatch. You will receive a verification email shortly.
There was a problem. Please refresh the page and try again.