Piper exposes Paige and Tyler's tryst in Neighbours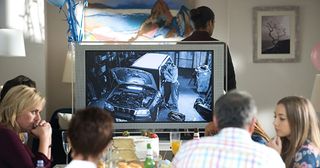 A scorned Piper Willis decides it's payback time for Paige and Tyler in Neighbours!
It's time for Brad and Terese's divorce party, but there are red faces and dropped jaws when Piper Willis takes the opportunity to expose Tyler and Paige's secret hook-up!
Scheming Piper insists Tyler come to the bash so that they can put their differences behind them. However he and Paige are totally mortified when Piper shows a family slide show that includes CCTV footage of them having sex in the garage!
How will Brad, Terese, Lauren and Jack react to the shock footage? And will Paige ever be able to live this down?
As Brad and Terese's divorce party gets underway, Piper has a mischevious glint in her eye and we soon discover why!
The party is in full swing and Terese can't resist a grin as she cuts the special divorce cake.
However everyone's about to have the smiles wiped off their faces when Piper insists she shows her special family "slide-show" to all the guests.
Jack, who's agreed to come to the party, is horrified to see CCTV of Paige enjoying a very raunchy rendez-vous with Tyler in the garage!
Meanwhile, Lauren and Terese are gobsmacked! Paige and Tyler are utterly humiliated and Brad is furious that Piper's sabotaged the party in such a vengeful way. It's fair to say there's going to be one almighty fall-out! Will Piper show any remorse and where do Jack, Tyler and Paige go from here!? Watch Neighbours on Channel 5 from Monday, August 8.
Get the latest updates, reviews and unmissable series to watch and more!
Thank you for signing up to Whattowatch. You will receive a verification email shortly.
There was a problem. Please refresh the page and try again.