Tyler tries to do a runner to avoid jail - and Toadie's birthday is full of surprises in a late night special episode of Neighbours!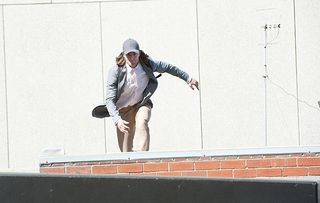 Tyler tries to avoid jail by doing a runner, and Toadie celebrates his '21st' birthday with lots of old faces returning to Ramsay Street… including Izzy Hoyland!
Ahead of Tyler's trial for Hamish's murder, he and Piper try to have one last hurrah in a hotel. Piper convinces him to go on the run with her - but their mission goes horribly, and dangerously, wrong…
Toadie's mates rock up for his 90s-themed birthday party in Lassiters. But the return of old faces leads to the re-opening of some old wounds. Susan reels as she accidentally knocks down her nemesis Izzy Hoyland, and Toadie's stunned when Sindi Watts shows up and hands him Andrea Sommers' phone number…
Tyler does a runner to try to avoid going to prison for Hamish's murder…
Tyler does a runner to try to avoid going to prison for Hamish's murder…
It's Piper who persuades Ty to skip town – and she's planning to go with him.
As the young couple leg it from the police, they're confronted with a huge drop…
Tyler jumps…
… and Piper does too but she doesn't make the leap and is left hanging off the side of a building!
Ty's escape is a failure and, soon enough, he's on trial (sporting an awful hairdo)!
Toadie makes a passionate plea for the judge to show leniency on young Tyler.
But Ty is slammed with a hefty jail sentence.
Piper's in pieces as Tyler is carted down to the cells.
Terese tries to comfort devastated Piper.
Elsewhere, Jack and Paige end up in bed together after their sizzling chemistry becomes too difficult to ignore.
And it's back to the 1990s for Toadie and his friends who gather at Lassiters for the solicitor's birthday.
Terese comes as Xena Warrior Princess and Toadie's dressed as a Teletubby!
Ben and Xanthe become Britney and Justin after borrowing Tyler and Piper's costumes.
Susan is not happy about her outfit and lays into Karl for dressing her as Camilla Parker-Bowles to his Prince Charles. The couple then start rowing about the hospital wing. Again.
Fuming, Susan drives off in her car…
In her haste to get away from Karl, she hits someone…
… and that someone turns out to be none other than her nemesis Izzy Hoyland, who's in fancy dress as Ginger Spice.
Karl is stunned to see old flame Izzy, who once tore his marriage to Susan apart.
An English tourist, called Rafael Humphreys (and is better known to us as ex-Corrie actor Ryan Thomas), is in town. What's bought Rafael to Ramsay Street? Watch this special late night episode of C5's Neighbours on Monday 12 February at 10pm
Get the latest updates, reviews and unmissable series to watch and more!
Thank you for signing up to Whattowatch. You will receive a verification email shortly.
There was a problem. Please refresh the page and try again.