10 Years Ago in the Soaps including EastEnders: Week Beginning June 30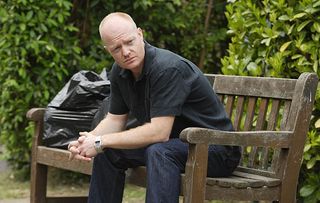 (Image credit: BBC)
10 Years Ago in the Soaps: Remind yourself of all the soap drama happening in EastEnders, Coronation Street, Emmerdale and Hollyoaks 10 years ago this week!
Max Branning was making waves in EastEnders, Roy Cropper told lodger Becky Granger to leave in Coronation Street, Laurel Thomas had a change of heart about Arthur in Emmerdale and Tina Reilly's baby was born in Hollyoaks - 10 Years Ago in the Soaps…
10 Years Ago in the Soaps - EastEnders
Max Branning (Jake Wood) was down in the dumps. He was depressed his brother Jack (Scott Maslen) had quickly taken his place with his wife Tanya (Jo Joyner) and pleading with Jack didn't help. Their daughter Abi was also not happy and told her mum it wasn't right for her to be going out with her dad's brother. (You can see it would be confusing!) Then Jack suggested he move in with her… and even Tanya thought things were moving a bit too quickly! She was torn between the Branning brothers…
No one knew where Sean Slater (Rob Kazinsky) had been or what he'd been up to but he stopped the punters in their tracks when he stumbled into The Queen Vic caked in blood. Stacey Branning (Lacey Turner) took him home and started to bathe his bloody wounds only to realise there were no wounds, it wasn't his own blood he was covered in! Stacey quizzed Sean, desperate to find out what had happened until Sean eventually admitted he hadn't a clue, he couldn't remember!
10 Years Ago in the Soaps - Coronation Street
Roy Cropper (David Nielsen) only wanted the best for his lodger Becky Granger (Katherine Kelly) and he was worried for her when he spotted her kissing Jason Grimshaw (Ryan Thomas) and she admitted they were back on. Roy's comments led to a huge row with Becky calling Roy a freak and accusing him of trying to spoil her fun. Then she suggested she move out - and was hurt and shocked when Roy agreed it was probably for the best!
Liz Tomlin (Beverly Callard) was hoping that running a new bar would fix her marriage to husband Vernon (Ian Reddington). But when he started going on about how excited he was at them working as a double act and having their own 'love nest' Liz shocked him by saying "I can't do this." Desperate Vernon said they could look at other bars, but Liz admitted it wasn't the bar that was the problem, it was him! Poor Vernon was devastated.
10 Years Ago in the Soaps - Emmerdale
Laurel Thomas (Charlotte Bellamy) was still struggling to bond with baby Arthur but, finding herself alone with him, she panicked when she couldn't immediately get him to wake up. Her imagination went into overdrive and she got Mel Doland to rush them to hospital, where the doctor insisted Arthur just had a cold. But the scare was the turning point as Laurel cuddled Arthur - and told the Dolands that the only way they could all move on was if the distraught couple left Emmerdale.
What Debbie Dingle (Charley Web) ever saw in Eli Dingle (Joe Gilgun) is a mystery, but she was lonely so maybe that explains why she came onto him one evening over a glass of wine. Eli couldn't believe his luck but after the dirty deed was done, Debbie was left disappointed when Eli didn't want to hang around. He rubbed salt in the wound when he said he enjoyed their on-off no strings attached relationship. Debbie wasn't so sure…
10 Years Ago in the Soaps - Hollyoaks
Tina Reilley (Leah Hackett) was rushed to hospital in premature labour after being pushed down a flight of steps by an angry Niall Rafferty. She gave birth to a baby boy by emergency caesarean but remained unconscious while an anxious Dom prayed for his wife to wake up. Tina had planned to hand over the baby to childless Jacqui McQueen and Tony Hutchinson but when doctors had to perform a hysterectomy and Tina was told she would never have anther baby, she faced an impossible dilemma…
The tragic death of Max Cunningham sent John Paul McQueen (James Sutton) on a mission to reconcile with his mum, Myra (Nicole Barber-Lane). Forgetting, momentarily, their feud over John Paul's relationship with Father Kieron, the two were happy to be family again. But it didn't take long for Myra to remember her son's betrayal and she gave him an ultimatum… Kieron or me. Would John Paul chose a life with his new love over his own mother? Of course he would!
Get the latest updates, reviews and unmissable series to watch and more!
Thank you for signing up to Whattowatch. You will receive a verification email shortly.
There was a problem. Please refresh the page and try again.