10 Years Ago in the Soaps: Week Beginning March 25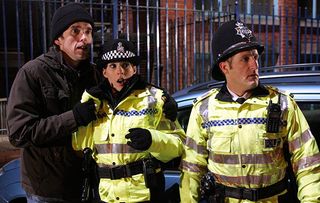 Remind yourself of all the soap drama that was happening in Corrie, EastEnders, Emmerdale and Hollyoaks 10 years ago this week!
Corrie
A gripping two-hander episode showed Tracy Barlow (Kate Ford) confess to mum Deirdre (Anne Kirkbride) that she intended to kill Charlie Stubbs and reveal how she burned herself with an iron to make it look like Charlie was abusing her. It was only the second time in the soap's history that just two people had featured in an episode and started with Deirdre and Tracy having a heart to heart on the eve of Tracy's trial for Charlie's death. But Deirdre is horrified when Tracy confesses she killed Charlie after he cheated on her with Maria Sutherland.
EastEnders
Back when schoolboy Ben Mitchell (Charlie Jones) loved musicals and dancing, he was a target for bullies. But his biggest most brutal bully was his wicked stepmother-to-be, Stella Crawford (Sophie Thompson). Here, Ben tried to stand up for himself and kicked Jez, one of his tormentors. Ben was briefly triumphant, then a gang quickly rounded on him and beat him up. Stella, at the school to collect Ben, watched him suffer for a while then beeped her car horn to scare off the thugs.
Louise Appleton (Emily Symons) discovered she had a young admirer in Daz Eden (Luke Tittensor) as she prepared to enter a beauty contest at the village pageant. Louise spent a lot of money on some glittery costumes for the event and she was secretly trying them on when she saw Daz watching her. Louise was mortified at first and swore Daz to secrecy. But as she mourned the fact that she was past her sell-by date an impressed Daz assured her that he thought she was still beautiful.
The first time Warren Fox (Jamie Lomas) killed it was for Louise Summers (Roxanne McKee), who Warren is kissing here. The victim was Louise's abusive husband, Sean Kennedy, who had left the village but returned demanding money from his wife. Louise asked Warren for help in getting rid of Sean but she never expected him to actually kill him and didn't know how far he had gone.
Corrie
This week's Corrie was dominated by Tracy Barlow's trial for the murder of Charlie Stubbs. And one of the key defence witnesses was David Platt (Jack P Shepherd)… He took the stand, swore on the Bible to tell the truth, the whole truth and nothing but the truth, then lied that he saw Charlie attack Tracy and that she killed him in self-defence. And all Tracy had to do to get him to lie for her was promise to sleep with him.
EastEnders
Pregnant Dawn Swann (Kara Tointon) ended up in hospital after nearly drinking herself to death when she was dumped by her married fella and the baby's father, Rob Minter (Stuart Laing), and told it was too late to have a termination. It was the latest twist in the story where Dawn had, at one point, agreed to sell her baby to Rob and his wife, May, who couldn't have children. Rob begged Dawn's forgiveness and promised they would be a family but Dawn didn't trust him… And she was right not to.
Emmerdale
Marlon Dingle (Mark Charnock) had been roped into a robbery by his cousin Eli Dingle (Joseph Gilgun) and was playing lookout when his wife, police officer Donna Dingle (Verity Rushworth) and a colleague arrived. Eli stole a truck from the King family's haulage yard and burst through the gate, making his getaway. Marlon was forced to pretend he'd broken down and was just a witness, leaving him ashamed of himself and furious with Eli.
Hollyoaks
Mike Barnes (Tony Hirst) was in bother for punching student Josh Ashworth (Sonny Flood)… The lad's mum Suzanne (Suzanne Hall) marched into the grocery shop and started shouting the odds at Mike and daughter Amy (Ashley Slanina-Davies) as Josh begged her not to interfere. She threatened to call the police so Mike had to start talking…fast! "I found them drunk and on the bed in Amy's room," he told Suzanne. That stopped her calling the police but didn't stop her calling Amy "trouble". Mike dragged Amy out of the shop and Suzanne stopped Josh following her.
Thank you for signing up to Whattowatch. You will receive a verification email shortly.
There was a problem. Please refresh the page and try again.