10 Years Ago in the Soaps including EastEnders - Week Beginning July 14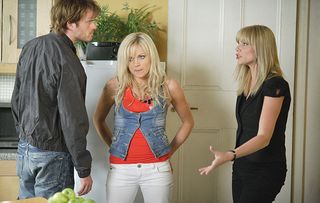 (Image credit: BBC)
10 Years Ago in the Soaps - Remind yourself of the soap drama happening in EastEnders, Coronation Street, Emmerdale and Hollyoaks 10 years ago this week!
Sean Slater and Roxy Mitchell had their first baby scan in EastEnders, Tyrone Dobbs bottled out of proposing in Coronation Street, Viv Hope got into more trouble in Emmerdale… as did Darren Osborne in Hollyoaks – 10 Years Ago in the Soaps…
10 Years Ago in the Soaps - EastEnders
Roxy Mitchell (Rita Simons) and Sean Slater (Rob Kazinsky), were all loved up and keen to go to their first baby scan together, just the two of them. Roxy didn't have the heart to tell sister Ronnie (Samantha Womack) she couldn't come but Sean didn't have any such qualms and tricked Ronnie into missing the appointment. At the hospital the two held hands, transfixed at the sight of the tiny baby on the screen and later Ronnie had to be content with looking at the scan photo of her niece.
A fool and his - or her - money are soon parted and Bianca Jackson was certainly one of Albert Square's daftest. Step-daughter Whitney had come into £5,000 after cashing in a lottery ticket she found and, at first managed to keep the cash hidden from Bianca, fearing she would blow the lot. And she was right. Inevitably, Bianca found some of the money then, instead of banking it, she splashed out on a flash new outfit. But she bought presents for her kids, too.
10 Years Ago in the Soaps - Coronation Street
Tyrone Dobbs (Alan Halsall) was keen to propose to girlfriend Molly Compton (Vicky Binns) and overwhelmed when Jack Duckworth (William Tarmey) gave him a box obtaining Vera's engagement ring. He told Tyrone that Vera would have a tear in his eye if she could see him propose. In the end, it was Tyrone who was nearly in tears. He took Molly to an expensive restaurant but, just as he was about to pop the question, another man proposed with balloons falling from the ceiling and the band striking up. Tyrone feared his plan would look pathetic and bottled it!
Steve McDonald (Simon Gregson) thought he'd dug himself out of a hole when he proposed to girlfriend Michelle Connor (Kym Marsh) and she said yes. But that was before his dozy mate Lloyd, unaware it had happened, told Michelle he had made up the story about the proposal, landing Steve in even more trouble. Michelle bided her time, got Steve to buy her the most expensive ring in the jewellers, let him propose publicly in The Rovers, then let rip and told him she didn't want to marry him!
10 Years Ago in the Soaps - Emmerdale
Poor Viv Hope (Deena Payne) was desperate to clear her name of swindling a charity, but hiring a private investigator to track down the real villain, a man called Freddie, only made things worse. At a park bench meeting point – with her twins in their pushchair - Viv handed over money in exchange for a tape of Freddie detailing how he had set Viv up. Freddie was watching, though, and gave chase as Viv desperately ran to get the tape to the police station. But Freddie caught her and threw the tape into a pond. She was beaten, again.
Jo Sugden (Roxanne Pallett) was delighted she'd got a job as barmaid at The Woolpack, but jealous husband Andy (Kelvin Fletcher) wasn't keen. He was furious when landlady Diane Sugden persuaded Jo to stay for a drink after work and even more furious when she eventually got home drunk. Next morning Jo was shocked to find her arm covered in bruises. Andy blamed the injuries on her falling down the stairs, but Jo suspected he had hit her, again.
10 Years Ago in the Soaps - Hollyoaks
Darren Osborne's (Ashley Taylor Dawson) gambling had helped to bring his family to near ruin and they were desperate for cash. Darren, though, reckoned he was onto a winner with his Naked Chef event at The Dog. Mercedes McQueen (Jennifer Metcalfe) was baffled by the sight of Darren in his sexy pinny, but things went dramatically downhill when the pub got an untimely visit from Trading Standards and Jack Osborne was forced to admit he'd been watering down the booze!
The course of true love had been decidedly rocky for John Paul McQueen (James Sutton) and Father Kieron Hobbs (Jake Hendricks), not least because devious Niall Rafferty and JP's mum Myra were determined to keep them apart. But for this week, at least, they failed. The two men celebrated becoming a proper couple with a few beers at The Dog and when Myra launched into a tirade against them, Kieron stood tall and announced that he loved John Paul and they were staying together. No matter what!
Thank you for signing up to Whattowatch. You will receive a verification email shortly.
There was a problem. Please refresh the page and try again.