'Get outta my pub!' Remember the biggest soap stories of 2016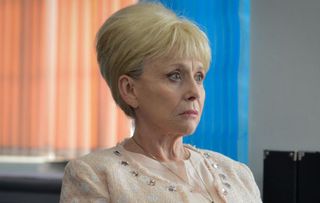 From Peggy Mitchell's goodbye to Callum Logan's demise, 2016 has been a turbo-charged year in the soaps – and here's a reminder of the biggest storylines
It's never a quiet year in soapland, and 2016′s visits to our favourite neighbourhoods have featured more drama than most of us could expect in three lifetimes.
We take a look back over some of the biggest, boldest and barmiest storylines on our best-loved soaps during the past 12 months.
It was a bleak start to the year on Albert Square as Stacey Slater's mental health issues resurfaced. She gave birth at Christmas time, but had a tough battle with postpartum psychosis in the months following.
She's one of a number of characters in Walford to experience depression this year – Lee Carter is also having a tough time and Roxy Mitchell has turned to the bottle to help her cope with difficult feelings over her sister Ronnie reuniting with Jack Branning, with whom they've both previously been involved.
But Phil Mitchell's (Steve McFadden) demons are turning out to be one of the key storylines of the year as his health has been rapidly deteriorating since his diagnosis with liver failure a year ago as a result of his alcoholism. A dying Phil could well be facing his last Christmas on the Square.
He's had a tough 2016 anyway after saying goodbye to mum Peggy (played by Barbara Windsor) as the EastEnders stalwart was killed off earlier in the year. Her emotional departure saw Babs make a brief return to the soap, with Grant and Sam also rejoining the cast for her final storyline.
There was further baby drama for Abi Branning (Lorna Fitzgerald), who started out the year pretending to be pregnant with Ben Mitchell's child, but was blackmailed about the truth before her lies came tumbling out.
Viewers are about to see Dot Branning (June Brown) bow out of the launderette as it closes its doors for the last time on Christmas Eve. It's been a staple of the soap since it began in 1985, but Dot's failing eyesight has been tied up in the reason for it going out of business.
The big theme in Weatherfield this year has been the fallout from Callum Logan's death at the hands of Kylie Platt, which her husband David (played by Jack P Shepherd) and sister-in-law Sarah helped to cover up by burying him in the concrete of their home's new bathroom.
But the secret was never going to stay hidden for long, and the murder had much further-reaching consequences than the trio first anticipated, even though they managed to pin it on the recently-deceased Tony Stewart.
Kylie got dragged into an altercation with Callum's old mate Clayton when she found him attacking another acquaintance and tried to stop him, only to be stabbed by Clayton. She died in husband David's arms on the cobbles in a heartbreaking episode that had fans in floods of tears.
David has understandably spent much of the year traumatised by his wife's death and planned an act of revenge involving crashing his car into a prison van carrying his wife's murderer. Mum Gail and brother Nick discovered his plan and locked him in the Bistro's cellar to stop him, but he managed to escape by faking his own suicide.
Forging ahead with the scheme, David jumped into his petrol-covered car – but had to swerve to avoid his young daughter Lily and flipped the car over, which exploded and caused horrific injuries to neighbour Anna Windass.
Elsewhere, barman Steve McDonald has double trouble brewing as both his wife Michelle and neighbour Leanne Battersby are pregnant with his children, although he's been desperately trying to keep his involvement with Leanne's pregnancy a secret.
Les Dennis also left his role as Michael Rodwell this year as his character's dodgy ticker finally gave in as he had a massive heart attack.
It's been a strong year for Emmerdale, which won Soap of the Year at the British Soap Awards in May for the first time ever.
There have been some cinema-worthy stunts in the Dales this year, including a giant explosion at Mill Cottage after Rakesh Kotecha (Pasha Bocarie) doused the place in petrol, unfortunately without realising that Nicola King was still inside.
More recently, a giant car crash involving Paddy and Rhona Goskirk, which was caused by a confused Ashley Thomas, and a bizarre Misery-style plot where Emma Barton held James Barton hostage, tied together for a gritty week of twists and turns that left James dead.
This week has seen a truly harrowing storyline play out as Ashley Thomas's dementia worsens. His wife, Laurel, has been struggling to cope with her caring duties and a special episode filmed entirely from Ashley's point of view demonstrated the challenges dementia sufferers face.
Channel 4′s soap screened a creepy episode recently where the Osborne family were shown to have suddenly disappeared from their home without a trace after receiving threats from an unknown source.
It was revealed that Detective Eva (Kerry Bennett) was after Jack (Jimmy McKenna) because she was his niece and blamed him for the death of her father. It has been a tense game of cat and mouse to see whether she would manage to track them down, but the Osbornes are set to come out of hiding soon and we're due a flashback episode to find out what really happened between Jack and his brother.
At Halloween, the soap screened a terrifying plot in which Joe Roscoe and Mercedes McQueen were trapped at the top of a fairground Ferris wheel. But in an even weirder twist, when Cameron Campbell set fire to the maze nearby, it caused an explosion just as Joe was about to be rescued by a cherry picker, sending him plummeting to a death that only Hollyoaks could have written.
Hollyoaks has also featured a schoolgirl murderer this year – Nico Blake, who has wielded a terrifying reign of terror over the village, even stabbing Trevor Royle to death on his wedding day, although Nico was ultimately another of the victims claimed by the Halloween fire.
Viewers are now heading towards the climax of the Cameron storyline as his serial killer past, which includes responsibility for the deaths of a fair number of villagers, is about to catch up with him. Girlfriend Leela Lomax has discovered a confession he had made and hidden, but will she go through with their Christmas wedding now that she knows exactly who she's marrying?
Get the latest updates, reviews and unmissable series to watch and more!
Thank you for signing up to Whattowatch. You will receive a verification email shortly.
There was a problem. Please refresh the page and try again.