5 soap stars who tried to turn pop star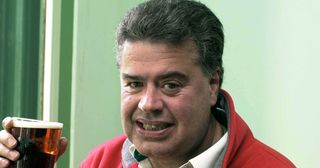 (Image credit: EMPICS Sports Photo Agency)
Read about five plucky soap stars who tried to follow Kylie and Jason and swap the small screen for the pop charts, but failed...
Kylie did it, Natalie Imbruglia did it, Holly Valance did it – but not every soap star manages to make the leap from the small screen to the top of the charts.
Here, we remember five surprising TV actors who tried but failed to be the next Justin Bieber or Taylor Swift…
Kevin Kennedy After starting out in a band with The Smiths-to-be Johhny Marr and Andy Rourke, Kevin went on to memorably play Curly Watts in Coronation Street from 1983 to 2003, and released several singles, including Bulldog Nation. While his rock career didn't take off, he's still performing and you can see him in the touring musical version of hit film The Commitments from October 2016.
https://www.youtube.com/watch?v=5W0ErsM723I
Letitia Dean Letitia Dean was still Dirty Den's 'Princess' when she teamed up with fellow EastEnders cast member Paul Medford in 1986 to release Something Outta Nothing, which reached a respectable 12 on the charts despite a dance routine that would embarrass a 10-year-old.
https://www.youtube.com/watch?v=1NhmOptFdvg
Stefan Dennis Inspired by the success of Kylie and Jason, fellow Neighbours actor Stefan Dennis, who played the ultra-square Paul Robinson, released 1989's Don't It Make You Feel Good, complete with obligatory cheesy video. Thankfully, Stefan hadn't given up the day job. You can buy it here for 21p!
https://www.youtube.com/watch?v=trfYjucLGj0
Paul Henry Paul played handyman Benny Hawkins in Crossroads from 1975 to 1988, and released his 1977 single Benny's Theme with the Mayson Glen Orchestra, in the voice of Benny. "Everything in my life always went wrong, until she came along" ran the heart-wrenching lyrics. Surely a reference to Miss Diane.
https://www.youtube.com/watch?v=9In-R2AN_V4
Sid Owen Best known in his role as Ricky Butcher in EastEnders, Sid tried to crack the charts in 2000 with a cover version of the Sugar Minott hit Good Thing Going. Unfortunately, the record-buying public was as interested in Sid as the bored model in the video. Was it the cap sleeves?
https://www.youtube.com/watch?v=QQlAdaDZaWw
Get the What to Watch Newsletter
The latest updates, reviews and unmissable series to watch and more!
As well as writing on sport and television for What to Watch, Richard McClure has contributed art and travel features for a wide variety of publications, including the Financial Times, The Guardian, and The Observer.