90 Day Fiancé: The Other Way's Daniele and Yohan have 'beef'
To be cold or to be seen? That is the question that sparked the latest round of conflict with the couple.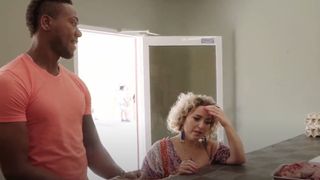 (Image credit: TLC)
In the 90 Day Fiancé: The Other Way season 4 premiere, Daniele was adamant that she was leaving the concrete jungle of New York City behind and settling down with her husband Yoahn in the Dominican Republic. When she dropped this news on her spouse, he was less than thrilled to hear it as he had ambitions of living in the US. As the episode ended, viewers thought that for the next few weeks, this would be a point of contention for the couple we first met on 90 Day Fiancé: Love in Paradise.
Fast forward to the episode titled "To Have Peace There Must Be Strife," which aired on February 5, and the couple quickly came to a resolution. Yohan agreed the couple could stay in his homeland as long as they were earning a living and things were going well. Just when it looked like the pair were headed for some smooth sailing, Yohan takes his wife to his new business, a butcher shop.
Upon entering the shop, Daniele immediately noticed the glaring red flags that wouldn't fly in a store selling meat in the US. Most prominent of these was the fact that Yohan had some of his product spread out across his counter. Daniele seemed utterly appalled that he didn't have the meat in some type of refrigerator unit. When she asked her hubby about that, he claimed that he wanted customers to be able to see it. He further insisted that the counter was cool, which she shot down as not being true. (We should point out that Yohan does have a freezer and refrigerator in the shop, so it's probable the meat does make it into a cooling unit at some point.)
As if that weren't enough reason to give her pause, there were flies hovering around the items. Now to his credit, Yohan did have his nephew working in the store actively swatting away the insects. However, that seemed to matter very little to the New Yorker, who continually questioned Yohan's butcher practices. In Yohan's defense, a customer was seen purchasing food from the store.
Daniele then pivoted to his bookkeeping. She couldn't really make sense of his business accounting which annoyed her, because she deduced the butcher shop is not profitable. Considering she's hoping to make a life with Yohan in the Caribbean, his earning potential has her puzzled and a bit concerned.
Viewers will have to keep watching to see if a few steaks and sausage links will continue to come between the couple.
New episodes of 90 Day Fiancé: The Other Way season 4 continue to air on Sundays on TLC and stream on Discovery Plus.
Get the What to Watch Newsletter
The latest updates, reviews and unmissable series to watch and more!
Terrell Smith has a diverse writing background having penned material for a wide array of clients including the federal government and Bravo television personalities. When he's not writing as Terrell, he's writing under his pseudonym Tavion Scott, creating scripts for his audio drama podcasts. Terrell is a huge fan of great storytelling when it comes to television and film. Some of his favorite shows include The Crown, WandaVision, Abbot Elementary and Godfather of Harlem. And a fun fact is he's completely dialed into the TLC 90 Day Fiancé universe.