Abi delivers a baby bombshell in EastEnders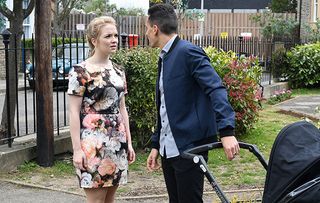 Steven's world is rocked when he learns how Lauren has deceived him.
It's another tough week for Steven Beale, who's devastated when he overhears dad Ian admit to Jane that it's not the same as having son Peter and late daughter Lucy around on Father's Day.
This only adds to the paranoia that's growing in Steven's mind about girlfriend Lauren Branning, who's become increasingly cool towards him since she's been working with smooth city businessman Josh Hemmings at Canary Wharf.
Lauren fell pregnant by Steven as a result of him sabotaging the condoms he used with her, but she kept the news to herself before secretly having a termination.
Now, thanks to Lauren having told sister Abi about the termination, Steven is about to learn another shattering truth…
A tense encounter this week between Steven and an angry Lauren leads to a shocking revelation…
A tense encounter this week between Steven and an angry Lauren leads to a shocking revelation…
Earlier, Steven feels rejected by Ian's lack of enthusiasm for Father's Day.
A while later, Steven has an awkward conversation with Ted in The Vic when the old man mistakes him for Louie's dad and Ian's son.
Abi is put out when her Father's Day plans for dad Max are scuppered by Lauren.
An angry Abi gets her revenge on Lauren by telling Steven about her sister's secret abortion…
After avoiding Josh all weekend, Lauren is unsettled when she discovers him waiting for her in his car. Unbeknown to Lauren, a seething Steven spots them together.
Later, in The Vic, Abi is concerned that Steven is about to confront Lauren…
When Steven comes face-to-face with Lauren, what will he say?
On the day of her 21st birthday party, Abi is delighted to see Josh turn up.
Josh surprises Abi with a bunch of flowers.
Lauren has words with Josh and things don't go the way Abi planned. What happens between Steven, Abi, Josh and Lauren? Is it all about to kick off and will this be one birthday Abi will never forget but for all the wrong reasons? Watch EastEnders on BBC from Monday, 19 June.
Get the What to Watch Newsletter
The latest updates, reviews and unmissable series to watch and more!